Financial Justice Ireland #FilmClub
Join us at one of our #FilmClub screenings, where we will show an array of films – documentaries, true stories, dramas and the odd blockbuster – with an introduction beforehand and time for Q & A and discussion afterwards to explore the issues from a financial justice perspective.
If you are outside Dublin and would like to set up your own film club, please feel free to use the notes below and let us know how you get on, or get in touch if you'd like some advice.
Previous Screenings:
Thomas Sankara: The Upright Man
Our screening of Thomas Sankara: The Upright Man took place on 15 October 2019 as part of global Debt Week, on the anniversary of Sankara's assassination. We had a presentation by UCD academic Dr Andy Storey, a lecturer in political economy, who contextualised the Africa in which Sankara was leader of Burkina Faso, a country dealing with the legacy of an unjust debt crisis.
While talking about the debt crisis in 1980s Africa he said,
"those who led us into debt were gambling, as if they were in a casino...They gambled. They lost... We cannot repay the debt because we have nothing to pay it with. We cannot repay the debt because it is not our responsibility".
His condemnation of illegitimate debts is just as applicable today as ever.
For more background information to spark a discussion, you can find further material here: https://www.financialjustice.ie/htww2/who-was-thomas-sankara.html
For up-to-date information on the current growing debt crisis and how it is affecting the Global South, we would recommend this report by our colleagues in Jubilee Debt Campaign.
The Laundromat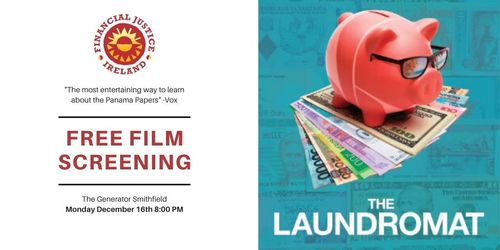 In December 2019, we screened The Laundromat, starring Meryl Streep, with a talk by Dr Michelle D'Arcy from Trinity College Dublin. Dr D'Arcy's presentation looked at taxation, inequality and development, covering early modern Sweden to present day Tanzania. The screening was followed by a discussion of the Panama scandal, tax transparency and other issues raised in the film.
Dr. D'Arcy's presentation can be downloaded here.
We also produced a short two-page intro to accompany the film looking at the role of tax in sustainable development and including a 'jargon-buster' for some of the terms used in the Laundromat which can be found here.
Bamako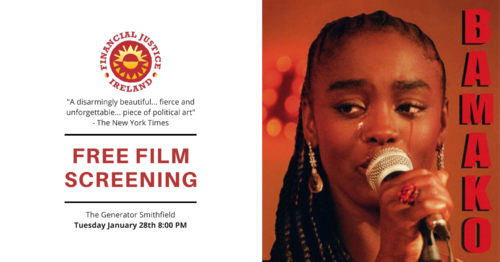 Malian film director Abderrahmane Sissako sets an outdoor 'trial of the world's major lenders in a neighbourhood courtyard in the Malian capital of Bamako. They stand accused by local citizen, who protest against policies on debt, trade and privatisation that have ravaged the African continent and stripped it of wealth. Daily life – a marriage break-up, a serious illness and a TV movie – are the background to the trial's proceedings.
Our January 2020 screening of Bamako provided an opportunity to revisit this 2006 film, with a discussion of the role of the IMF and World Bank in the Global South.
A background document outlining the role of the International Financial Institutions (IFI) and Sustainable Development produced to accompany the screening is available here.