Changing the World for Beginners: FJI in Collaboration with Creativity & Change 27th & 28th May
14 May 2023
---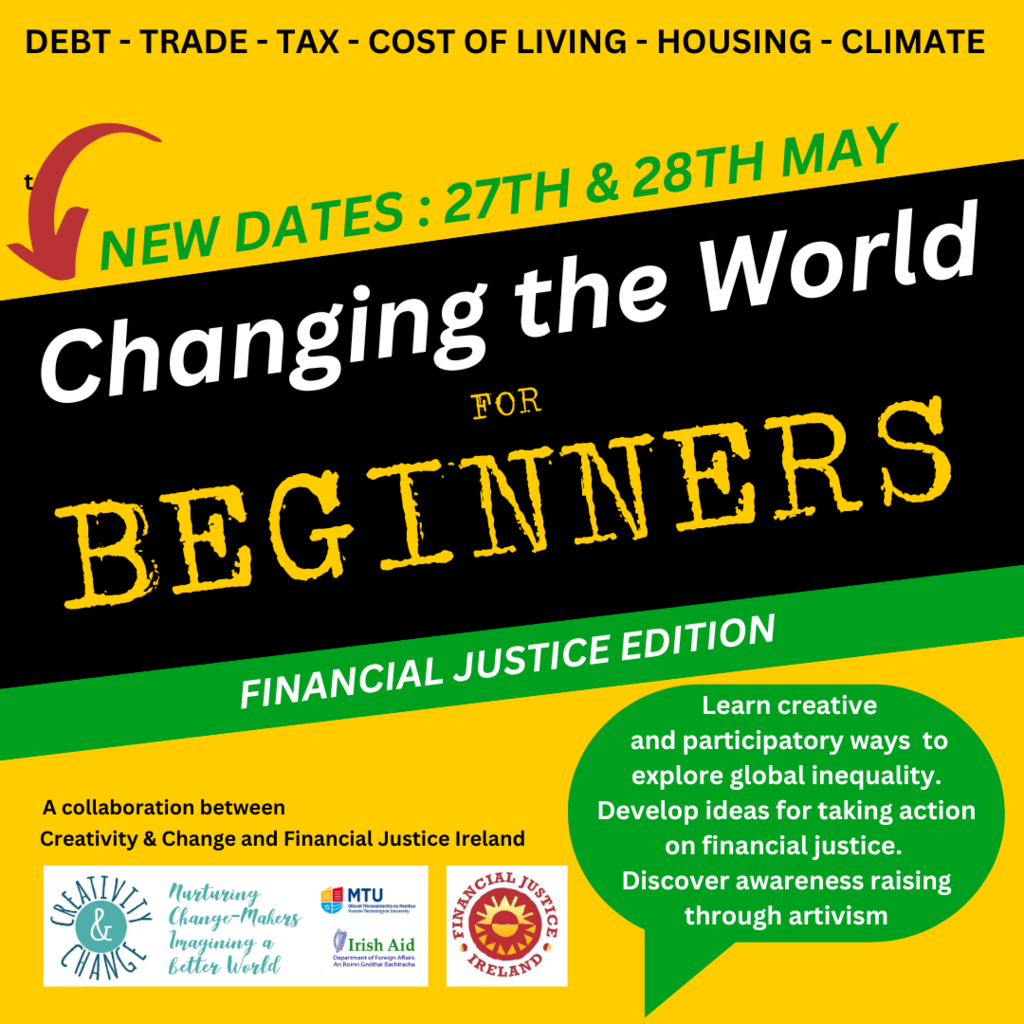 We are delighted to collaborate with Creativity & Change in this 'Deep Dive' workshop aimed at anyone new to global citizenship education and those hoping to find creative ways to explore social justice issues within their communities. This weekend workshop is ideal for experienced facilitators, educators, youth workers, and artists who might be interested in learning and exploring new resources while gaining insight and inspiration to engage with financial justice issues on a more meaningful level.
You don't need to know anything about these topics to participate. And, if you think tax and debt sound boring, or have never even heard of financial justice, that's event better! It's as far from boring as you could get - and we'll show you that throughout these workshops.
When: Saturday 27th and Sunday 28th of May
MTU Crawford College of Art & Design, 46 Grand Parade, Cork City from 10.am - 5 pm each day.
What's the cost?
Participation costs €60 for the two days.
Training costs have been significantly subsidised by Irish Aid to make these workshops as accessible as possible. However, if costs are a barrier to your attendance, please email claire.coughlan@mtu.ie to request financial support.
Register here to get your full weekend tickets and get ready to learn more about:
Global Citizenship Education: what it is and how can it empower us to think critically about the systems we live in;
Gaining clarity around the complexity of the social issues and how we can start to tackle them in our communities;
The economic systems we live with and the ways they affect our daily lives;
Demystifying tax, trade and debt, and taking part in ideas and activities that will allow you to meaningfully engage with these topics and gain confidence to raise awareness in your own groups and communities;
Creative and participatory methodologies to help explore these issues with groups; and
Developing your own creative responses to the workshop content.
We'll see you then!
This seminar is funded by Irish Aid at the Department of Foreign Affairs. Irish Aid is the Government's overseas development programme which supports partners working in some of the world's poorest countries. Irish Aid also supports global citizenship education in Ireland to encourage learning and public engagement with global issues. The ideas, opinions and comments therein are entirely the responsibility of the participants and do not necessarily
represent or reflect DFA policy.