Financial Justice in the Business Studies Classroom (hosted by JCT with input from FJI)
21 October 2021
---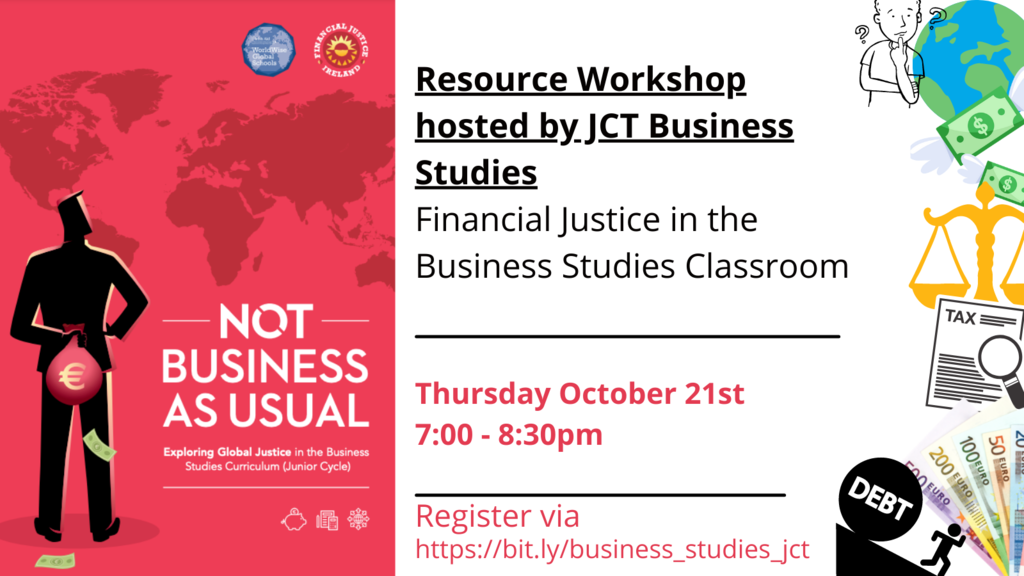 Are you interested in bringing issues of financial justice into your classroom? If so, then come along to the workshop hosted by Junior Cycle for Teachers (JCT) Business Studies with input from FJI on Thursday October 21st from 7pm to 8:30pm. We have produced a resource for Business Studies teachers replete with activities on the topics of tax, debt, poverty, cooperative business models, and spending on public services, to name but a few. By attending this workshop, you will be given an overview of the resource, and explore how to put a selection of the activities into practice in your classroom.

This workshop would suit any teacher interested in bringing a global justice perspective into the classroom, but will benefit in particular business studies, CSPE, mathematics, and geography teachers. The resource covers a number of learning outcomes linked to the Junior Cycle curriculum, and explores topics including ethical consumerism, sustainable business ideas and considering concepts such as debt and tax from an ethical perspective.

This workshop is free to attend. If you so wish you may request a CPD certificate upon completion of the 90-minute workshop. You may also, upon completion of the workshop, request a hard copy of the resource to be posted to you.

The event will be recorded but will not be shared beyond a specific cohort of teachers that are seeking to develop their skills in incorporating Global Citizenship Education into their practice.
Venue: