Seminar: Get Over It! From Immobilising Information to Transformative Action, 24th May 2.30-4.30 pm
15 May 2023
---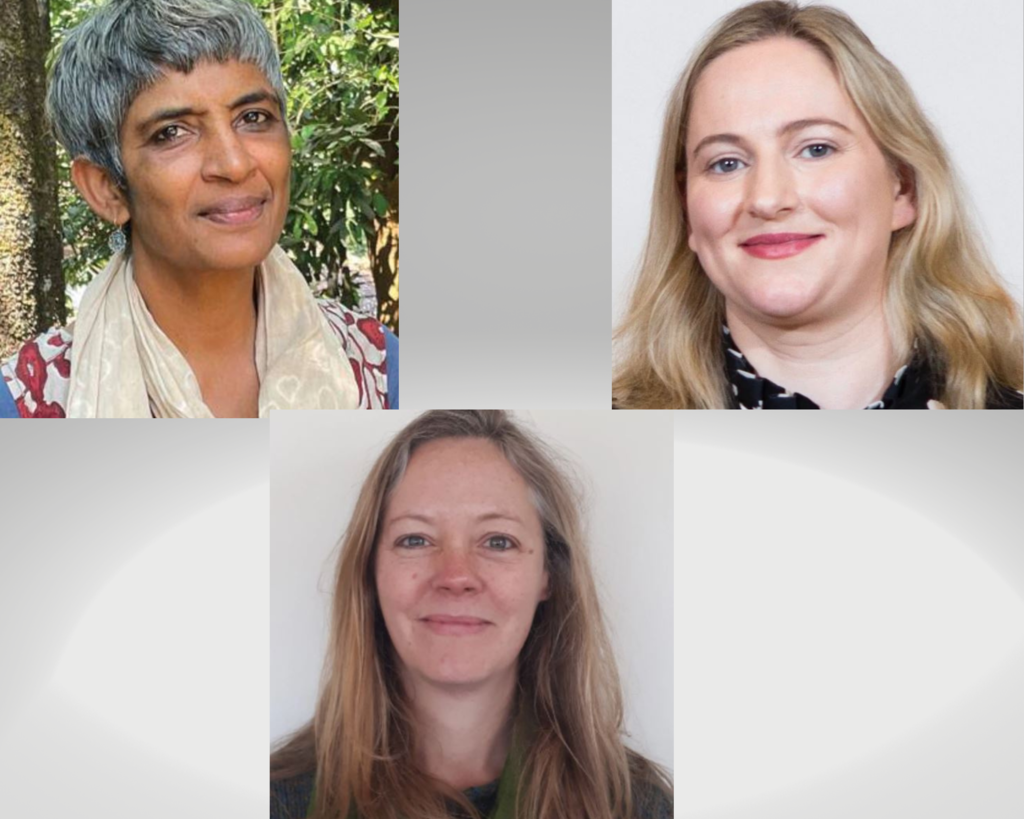 What are the qualities and perspectives that we need to cultivate in ourselves and others to be able to face existential threats? This deep-dive exploration of current research and practice will feature two speakers from Ireland and one from India.
Dr. Audrey Bryan will explore her current work that focuses on overcoming psychic barriers to receiving difficult information and the role of emotion and difficult knowledge in teaching for social and global justice. Suprabha Seshan will join us from India to share some of her work focused on the rewilding of habitats and human beings and her reflections and teachings on the topic of Rainforest Etiquette in a World Gone Mad. With Sive Bresnihan we will hear about her work on decolonial pedagogies and how we can mobilize our whole bodies/senses in service of transformative learning and justice.
The FJI team will moderate a panel discussion and Q & A between our three speakers.
More about our guest speakers
Dr Audrey Bryan is an Associate Professor of Sociology in the School of Human Development at Dublin City University's Institute of Education (DCU IoE). She has published nationally and internationally in the areas of climate change education, gender and sexuality studies, racism and anti-racism and critical global citizenship education. Her current work explores the role of emotion and difficult knowledge in teaching for social and global justice. In making the case for expansive engagement with emotion in Development Education, Audrey criticises the growing fascination with neuroscience and techno-solutionism within Global Citizenship Education on the grounds that they are thwarting prospects for planetary survival and global solidarity by promoting market-led, technological solutions to global challenges and delimiting conceptions of citizenship.
Suprabha Seshan is a conservationist and environmental educator committed to the rewilding of habitats and human beings. She lives and works at the Gurukula Botanical Sanctuary (GBS) in the Western Ghat Mountains in Kerala, India. Learning from nature to protect nature better is the work of GBS, through its integrated conservation practices in land, species and community-based ecological nurturance. Suprabha received the prestigious Whitely Award for Nature on behalf of the GBS team in 2006. Watch this clip to learn more about her work.
Sive Bresnihan is the Training and Education Officer at Comhlámh where she leads on the development of Global Education curriculum. With a background in drama and theatre and international development, Sive worked with Trocaire in Rwanda and later in Zimbabwe between 2003 and 2008 before moving towards adult education and critical pedagogy in 2010. You can learn more about Sive and her work here.
Sive's Global Education practice reflects an ever-increasing commitment to decolonial pedagogies and she is interested in ways to engage the whole body in learning (somatics). In addition to her role at Comhlámh, she participates on a number of all-island training panels including Children in Crossfire/ Educating the Heart and FJI's Trainers Group. Sive's growing love is for Leitrim where she lives with a cat and two hens.
All are welcome
This seminar will be of particular interest to educators, organizers and activists grappling with existential threats, economic and social crisis and who are interested in transformative education for action.
This seminar is funded by Irish Aid at the Department of Foreign Affairs. Irish Aid is the Government's overseas development programme which supports partners working in some of the world's poorest countries. Irish Aid also supports global citizenship education in Ireland to encourage learning and public engagement with global issues. The ideas, opinions and comments therein are entirely the responsibility of the participants and do not necessarily represent or reflect DFA policy.