Join us in person for Culture Night on Friday 22 September as we Tour Dublin's International Financial Services District
04 September 2023
---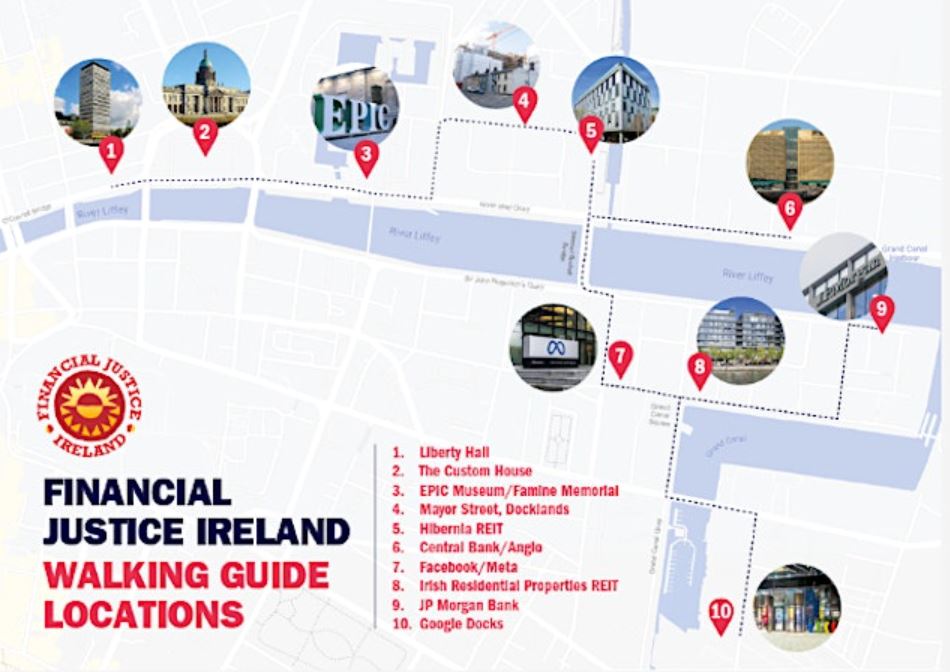 Join us for Culture Night on Friday 22 September from 5.00 to 7.30 pm as we tour Dublin's International Financial Services district. The concept of this tour is a simple but effective one: to make real the abstract nature of globalised finance by taking a journey through the streets where it conducts its business. It's also a walk through Irish history, from the War of Independence to today's world of transnational capital.
Our 5 pm meeting point is the James Connolly Statue, Beresford Place, Dublin 1 and we'll take you along locations from Liberty Hall, to the North and South Docklands. This tour is open for everyone, and of all ages, but will be of particular interest to activists, educators and researchers who are interested in people, power and economic and financial justice.
The tour is facilitated by us at Financial Justice Ireland (formerly Debt and Development Coalition Ireland), a global financial justice organisation working for a fair and just society for everyone, in collaboration with CATU (Community Action Tenants Union), AFRI Action From Ireland, labour historian and former SIPTU tutor Mags O'Brien, artist/facilitator Neltah Chadamoyo & researcher Conor McCabe.
Check out our bespoke Walking Tour resource booklet for post-primary school teachers for a more in-depth look at the locations we'll visit and the economic and financial history behind them.
Booking is essential and places for the free tour can be booked on Eventbrite.
Here's a short video of the tour to give you an insight into the event itself.