The Irish Debt Crisis - What Happened? 2015
05 October 2021
---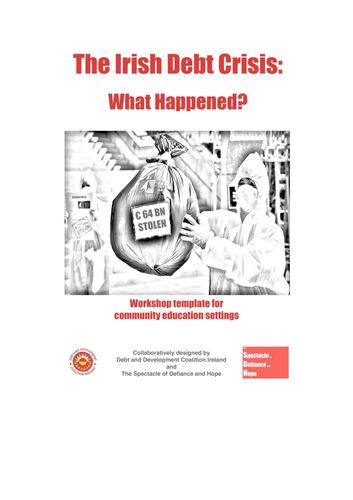 Collaboratively developed by DDCI (now Financial Justice Ireland) and The Spectacle of Defiance and Hope
The aims of the resource are to:
Educate people about what happened during the period of the banking crash and guarantee, paying particular attention to Anglo Irish Bank
Create links between people's own experiences, with what was (and still is) happening at the political level since 2008
Explore the justice aspects of what happened
Increase participants' economic literacy around key players in determining economic outcomes in Ireland (Central Bank, European Central Bank, Troika, etc) and also difficult terms we often hear in the media (bonds, bondholders, promissory notes, etc.)
Empower participants to feel informed and entitled to engage in discussions about economic issues
About this pack
What is this?
This is everything you will need to organize, carry out, and evaluate a workshop that explores the Irish banking crisis, with groups of at least 8 people. We hope it can be used with all sorts of groups; adults, teenagers, community workers, activists, volunteers - anyone who wants to understand the banking crisis and particularly the role of Anglo Irish Bank within this.
Why would I want to run this workshop?
This pack enables you, along with other people, to explore the banking debt from a justice perspective. This means taking the particular experience of communities into consideration. The idea is to write the stories of real people into the story of what happened with the banks.
Certain campaign groups (Ballyhea Says No to Bondholder Bailout, DDCI, Anglo: Not Our Debt and others) are campaigning for debt justice in Ireland, and believe that people should not be held financially responsible for the bad investments made by bankers and investors. The Spectacle of Defiance and Hope agree with this and believe it is still possible to prevent many more years of debt repayments leaving the country – money that could be invested in communities who are suffering at the hands of austerity. The nationalisation of the Anglo debt is illegitimate, and should be written down completely.
How long will it take to run the workshop?
The workshop itself can be done in less than a day, or if you want over 2-3 sessions. You can decide how long you would like to take. This resource provides a five-part structure, which you can adapt according to the group you are working with. However, it requires at least three hours. The intention is that the workshop will lead to a positive action within the communities – that once we understand what is happening, we will talk and think about what it is we can do to stop the injustice, now that we are better informed.
What will I need to do the workshop?
You will need a group of eight or more people, two facilitators, this pack, flipchart, and markers. The optimum number of people for this workshop is about 20 people, but it is not possible to do it with less than 8 people, and we recommend that the group does not exceed 30. As you increase the number of participants, you will need to increase the number of facilitators.
Aim:
The aim of this workshop is to raise awareness on events that took place in Ireland from 2008 until now, relating to the banking crisis. Much of the emphasis is on the Anglo Irish Bank story and it is framed within an understanding of social justice – we think what happened was unjust and we want to reverse it.
It is hoped that people who complete this workshop will:

Have a better understanding of the banking crisis, bank debt and the importance of the role of Anglo Irish Bank.
Understand the role of key decision makers and power-holders in Ireland and Europe.
Link the banking crisis to the many cuts happening in communities and to community organisations.
Understand the banking crisis in relation to other cuts and taxes imposed.
Have a better understanding of common terms used when discussing the banking crisis.
Have explored ways in which individuals and communities can respond to the banking crisis and austerity to bring about change.
Learning methodology:
Though this pack provides facilitators with information needed to run the workshop, the exercise is designed to be highly participatory. Facilitators are not expected to have all the answers or to be the only ones with knowledge to share. The hope is that by participating in role-play and sharing experiences, each of us in the room will begin to know the language of bank debt, enabling us to think about working towards change.