Take Action

Coronavirus: Cancel debts for the Global South
Many countries in the Global South spend more repaying unjust debt than on healthcare. To tackle the Coronavirus, they need a debt jubilee.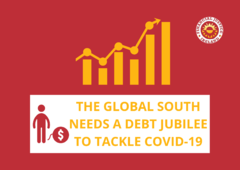 The economic turmoil caused by coronavirus is pushing indebted countries deeper into crisis.
While millions are facing health and other impacts around the world, the economic impacts could spell disaster for countries in the global south. The cost of borrowing has gone up dramatically, and they are getting less money for products like copper and coffee, on which their economies depend. 
We are calling on the Irish government to use its influence in the EU, the IMF and the World Bank, to;
Cancel all debt payments for countries suffering from the economic impacts of coronavirus, due in 2020. 
Help countries in trouble to restructure their debt rather than bailing out lenders.
Ensure new finance, granted to tackle the coronavirus, does not create more debt. 
Step One »
Enter your details
Privacy Statement
Financial Justice Ireland will send you periodic updates and action alerts by email. We will do our best to respect your time and interest. You can remove yourself from the mailing list at any time by using the link at the bottom of emails we send you. We will not give your contact details to anybody else.