We're hiring! Development Education Officer and Policy and Outreach officer roles available.
5 Sep 2018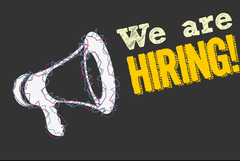 We are recruiting for 2 positions - a Development Education Officer and a Policy and Outreach Officer to join our team.
The Development Education Officer will lead on our work with WorldWise Global Schools, working with secondary school teachers to bring global justice and financial justice issues into the classroom. They will also support our Irish Aid programme which engages  adult learners, university students and members of the public on global financial justice issues through public talks, workshops and courses.
Download the Development Education Officer job description.
The Policy and Outreach Officer will support our EU-funded project, 'Citizens for Financial Justice'  They will lead in supporting grassroots groups and NGOs in Ireland to work on financial justice issues, from a local and global perspective. Working closely with partners across Europe, they will keep on top of the policy objectives of the project, and support Financial Justice Ireland and our partners in advancing our policy agenda and creating strong public communications. 
Download the Policy and Outreach Officer job description.
For both roles - 
Apply by: Wednesday 19th September
Interviews will take place on the week of 24th September
Proposed start date: early October