Spring Global Financial Justice Lecture Series
15 Jun 2016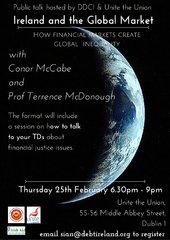 This spring, we travelled throughout Ireland and had a number of fascinating events looking at issues of financial justice and the links between the financial system and global poverty. If you were unable to make it, or were there and want more information, our speakers' presentations have been uploaded below:
How Financial Markets create global inequality: Conor McCabe (Dublin)
In this humourous and engaging talk, Conor McCabe sheds light on the origins of the financial markets, their role in the present crisis, and where Ireland stands today. Unmissable for its behind-the-scenes guided walking tour of the heart of finance in Ireland - the Dublin Docklands. Available for download here.
Taxation, Inequality, and Development: Dr Michelle D'Arcy (Dublin)
In her excellent lecture on the impacts of global inequality, Dr Michelle D'Arcy of Trinity College Dublin draws a global and interconnected picture of the world today, in which tax regimes play a huge role. Available for download here.
Broken, Needs Repair: Dr Micheál Collins (Dublin/Limerick)
Here Dr Micheál Collins of NERI, the Nevin Economic Research Institute, provides an intriguing and shocking insight into the troubling and broken state of the corporate tax system, and what Ireland can do to help. Available for download here.
Tax for the World: Dr Sheila Killian (Limerick)
Our tax regime isn't working. Luckily, Dr Sheila Killian of the University of Limerick is here to explain exactly what a good tax should be, what went wrong, and who's to blame. Available for download here.
Ireland and the Great Recession: Dr Terry McDonagh (Dublin/Galway)
In this entertaining and informative talk, Dr Terry McDonagh of NUIG confirms what we can all feel - No, the Great Recession isn't over. Charting the rise and fall of global neoliberalism, the state of our world today may seema bit grim, but at least there's something we can do about it. Available for download here.
How do Financial Markets Create Global Inequality?: Maeve Bateman (Belfast)
In this lecture, DDCI's own Maeve Bateman talks us through the key concepts and major players of the global financial system. Startng with a thought-provoking debate on financial justice, this talk discusses the symptoms of our broken financial system, its results, and what solutions lie a head for a fairer economic system. Available for download here.
Note: These talks were supported by Irish Aid. The views expressed in the presentations should not be taken to reflect the official views of Irish Aid.