Campaigners to Recall the 60th Anniversary of German Debt Cancellation
26 Feb 2013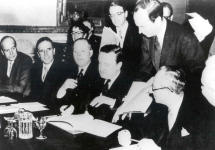 Campaigners Celebrate the 60th Anniversary of German Debt Cancellation 
Event: Wednesday 27th Feb, 11am, Irish Central Bank, Dame Street, Dublin  
February 27th 1953 is the day on which the London Debt Accord was signed, an extraordinary and historic agreement that cancelled 50% of Germany's pre and post war debts to external lenders and signalled the beginning of half a century of renewal and economic development in Europe. 
The Anglo: Not Our Debt campaigners will gather at the Irish Central Bank at 11am on Wednesday 27th February, dressed as if living in 1953, with a giant cake reading 'Happy 60th Anniversary Germany'. 
Nessa Ní Chasaide of the Anglo: Not Our Debt campaign said, 'The London Debt Accord of 1953 shows that fair, comprehensive and effective debt cancellation deals are possible to achieve. It teaches us that when lenders have a fair attitude to the indebted country and when the borrowing nation negotiates with determination, then lasting, effective debt cancellation agreements can happen.'  
Andy Storey of the campaign continued, 'The Irish debt deal on the Anglo Promissory notes compares dismally with the London Accord of  60 years ago; in a deeply sensitive post-war context, Germany succeeded in getting a massive debt write-off. Our government has failed to even ask the European Central Bank and European governments for a write down of the Anglo debt. We have a lot to learn from the lessons of the 1953 Accord.' 
Note to Editors:
A full briefing on the London Debt Accord and its lessons for Ireland and the wider world can be found here
The Anglo: Not Our Debt campaign is comprised of community, global justice, faith-based, trade union and academic groups.
For more information see http://www.notourdebt.ie
Contact:
Ireland:
Nessa Ní Chasaide, Debt and Development Coalition Ireland: 087 7507001
Andy Storey, Action from Ireland (Afri): 087 6543872 
Germany:
Jurgen Kaiser, Erlassjahr.de (Jubilee Germany): +49 173 2919374
USA
Jennifer Tong, Jubilee USA, (m) (320) 241-7082 / (o) (202) 543-0692