Public Meeting and Petition Hand In: Anglo: Not Our Debt
29 Mar 2012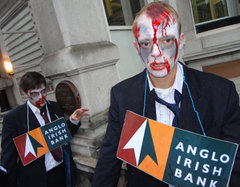 Public meeting / Press Conference Friday March 30th 2011, 11.15am, Central Hotel, Exchequer St, Dublin
Followed by:
Hand in of nearly 7,000 Petition Signatures 12.30pm Dept of Finance Merrion St
Hand in of Petition 5.30pm Fine Gael Ard Fheis, Convention Centre
Campaigners say promissory deal is a political stroke and a lost opportunity
The 'Anglo: Not Our Debt' Campaign, which includes a wide range of community, global justice and other organisations, will hold a public meeting & press conference tomorrow Friday 30th March at 11.15am at the Central Hotel Exchequer St, Dublin.

The meeting will be followed by an event at 12.30pm outside the Department of Finance Upper Merrion St, where the campaigners will hand in nearly 7,000 signatures supporting a write down of the Anglo debt, addressed to the Minister for Finance Michael Noonan T.D.

The campaigners will also hand in the petition at the Fine Gael Ard Fheis at the Convention Centre, Dublin at 5.30pm.

During this day of events this broad based campaign will describe the proposed deal on the deferral of the €3.1 billion Anglo 'promissory note' payment due on Saturday as a "political stroke" that does not address the real issue and that squanders an opportunity to write down an illegitimate debt.

ENDS

Notes to the editor
The campaigners highlight that the €3.1 billion payment that was due to be made by the state on behalf of Anglo on March 31st 2012, and now scheduled for repayment in 2025, would fund the cost of running Ireland's entire primary school system for a year.

Anglo: Not Our Debt campaign is supported by the Debt Justice Action network, which consists of the following organizations: http://www.notourdebt.ie/supporting-organisations

A simple 'questions and answers' document on Anglo debt can be found at http://www.notourdebt.ie

For further information contact:

Nessa Ni Chasaide - 0877507001