DDCI Launches Public Report Card on Ireland, the global South and the IMF and World Bank
16 Feb 2012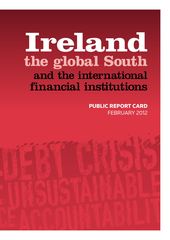 WHY A PUBLIC REPORT CARD?
This public report card is designed to provide an assessment of Irish government policy toward Southern countries through Ireland's membership of the World Bank and the International Monetary Fund (IMF).
Debt and Development Coalition Ireland (DDCI) believes that it is important to publicly highlight and track the implementation of Ireland's policies in this area, to encourage greater accountability by the Irish government for the impact of these policies on the lives of millions of people in the wider world.

DDCI believes that we have a particular responsibility to focus our attention on the World Bank and IMF, especially now, as Southern people experience high debt distress and the impacts of many continued unjust and damaging policies being persuded by the IMF and World Bank.
Read how Ireland scores here