Resources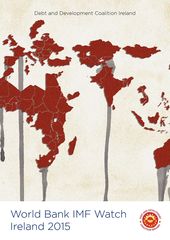 World Bank/IMF Watch 2015 is the latest in DDCI's annual series of reports on the activities of the Bretton Woods Institutions. The report tracks policy and practice at the World Bank and IMF over the past year and asseses the engagement of the Irish government with both institutions. Importantly, the document makes several recommendations to the Irish government based on current trends, to help work towards global financial justice, debt restructuring and forgiveness, and to increase the effectiveness of Ireland's foreign aid.

This document outlines lessons from the global debt justice movement, provides a background to the Irish EU-IMF loans, and offers some recommendations based on these lessons. It also flags recommendations from a diverse range of other groups.
Key lessons from the wider world include:

In the absence of an international insolvency regime and in the face of the continuing ad hoc and haphazard treatment of the sovereign debt of developing countries, we are demanding a series of contractual changes in loan contracts issued to sovereign states. These measures aim to provide guidance, fairness and certainties to borrower states and lenders as well as protect the citizens and environments of developing nations. The proposal moves away from institution or sector-specific approaches to dealing with concerns over 'responsible lending' and 'fair resolution of debt crises' towards internationally recognised legal standards for responsible financing.
Eurodad's Charter on Responsible Financing outlines the essential components of a responsible loan. These aim to ensure that terms and conditions are fair, that the loan contraction process is transparent, that the human rights and environments of recipient nations are respected, and that repayment difficulties or disputes are resolved fairly and efficiently. Many of the provisions outlined in Eurodad's charter are drawn from the international treaties and conventions to which lender and borrower nations are signatories.

If the world is to make poverty history, governments in poor countries have to have anti-poverty plans. And these plans must be supported by aid from rich countries. Of course, this aid should come with some terms attached. Rich countries have the right to expect their aid to be clearly accounted for. They - and citizens of poor countries - are also entitled to expect this aid to be used to fight poverty. What rich countries are not entitled to do is use their aid to push economic policy reforms such as privatisation and liberalisation on poor countries.
But this is exactly what the World Bank and the IMF continue to do, with the tacit support of their rich-country shareholders. Economic policy conditionality stops aid working. It undermines national decision-making, vital for successful development. It can lead to unpredictable 'stop-start' aid flows. And it can mean poor countries have to implement policies based on dogma and ideology rather than on evidence. Over the lpast decade, there has been a growing international consensus that economic policy conditionality does not work. As noted by the Africa Commission in 2005, "policy conditionality...is both an infringement on sovereignty and ineffective". The European Commission and the British and Norwegian governments have developed policies to end the tying of their aid to privatisation and liberalisation conditions.