Teacher Training (Online): How the World Works 3 : Cross-curricular TY Resource Introduction
18 May 2021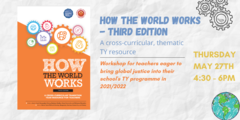 Register for the workshop here.
Join Financial justice Ireland on May 27th for an introduction to How the World Works - Third Edition, published in May 2021.

HTWW3 is a cross-curricular, thematic resource. It builds on learning outcomes for the Junior Cycle and orients students towards specific LOs in the Senior Cycle. It is a revised and updated version of the second edition, and was devised with expert input from the NCCA amongst others.

On attendance of this session you can request a hard copy of the resource sent to you by post and you can, by request, receive a certificate which can be used towards Continuous Professional Development (CPD).

Sign up now and be sure to send to any other teachers that may like to attend.

The event will be recorded but will not be shared beyond a specific cohort of teachers that are seeking to develop their skills in incorporating Global Citizenship Education into their practice.

This training has been undertaken with funding from Irish Aid's WorldWise Global Schools. Irish Aid's WorldWise Global Schools is the national programme for Global Citizenship Education (GCE) for post-primary schools in Ireland. The ideas, opinions and comments in this training are entirely the responsibility of Financial Justice Ireland and do not necessarily represent or reflect WorldWise Global Schools and/or Irish Aid policy.
Venue
Zoom