Teacher Training (Online): Bringing Global Justice into your Business Studies Classroom
28 January 2021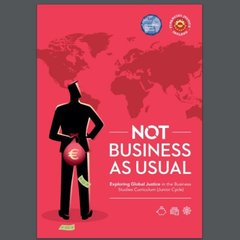 Register here for this workshop
This workshop will introduce teachers to our new resource for Junior Cycle Business Studies and support them in bringing a global justice perspective and active learning methodologies into their teaching. The resource covers a number of learning outcomes linked to the Junior Cycle curriculum, and explores topics including ethical consumerism, sustainable business ideas and considering concepts such as debt and tax from an ethical perspective.
The workshop will introduce teacher to activities and methodologies from our Not Business as Usual resource.  
This workshop will be most relevant for teachers of Junior Cycle Business Studies, however activities from the resource can also be used for development education modules or for any teachers looking to bring a global justice perspective or active learning methodologies into their teaching. 
This event is co-hosted by the Junior Certificate for Teachers Business Studies team.
When: Thursday 28th January  
Time: 6.30pm - 8.30pm 
Where: Online via zoom - registration essential.