The IMF and recent political crises in Latin America
25 February 2020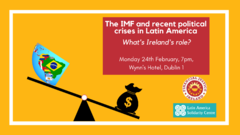 Financial Justice Ireland and the Latin America Solidarity Centre are pleased to host Luiz Vieira of the Bretton Woods Project for a public talk on the role of the IMF in Latin America.

The Bretton Woods Project are the global civil society watchdog monitoring how the IMF and the World Bank impact on human rights and sustainable development around the world.

The talk will be followed by a workshop to explore the role of Ireland - and our newly elected TDs - in the IMF's governance, and to establish how we as citizens can influence our TDs to take action to improve the IMF.

The past year has seen dramatic political shifts from Ecuador to Argentina to Bolivia in Latin America. Debt crises have been a constant feature of the continent's politics and economic development, and the IMF has continued to impose stringent conditions on the money it lends.

What impact has the IMF had on political and economic developments in Latin America in recent years?
Venue
wynn's hotel
Location Map