Belfast Seminar "The IMF, the World Bank and Labour Rights in the Global South
24 February 2020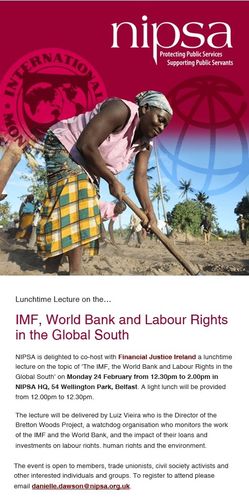 *BELFAST LUNCHTIME SEMINAR - THE IMF, THE WORLD BANK AND LABOUR RIGHTS IN THE GLOBALSOUTH*
Financial Justice Ireland, together with Nipsa, Northern Ireland Public Service Alliance, are delighted to host a lunchtime seminar with Luiz Vieira of the Bretton Woods Project, on the topic of The IMF, the World Bank and Labour Rights in the Global South.
The big players in international finance lend huge amounts to countries in the Global South. But how is the money they lend - and they conditions they attach to those loans - impacting on the rights of workers in the Global South?
Open to interested trade unionists, activists and groups. Please email danielle.dawson@nipsa.org to register to attend. 
Venue
NIPSA, Belfast
Location Map