Fundraiser film screening: The Guarantee
18 September 2019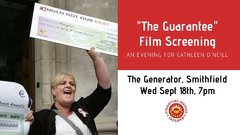 "The Guarantee:" Film Screening in aid of Cathleen O'Neill, followed by a look at Cathleen's life in education and activism, and a panel discussion on the role of activism and education in preventing the next financial crisis.
"The Guarantee" tells the story of the fateful night of 29th September 2008 when the Irish government decided to guarantee the banking sector, and the series of events over the previous four years leading to that night.
An auction will also take place on the night of a signed Jim Fitzpatrick Che Guevara print. The evening will be addressed by Cathleen's children.

Where: The Generator, Smithfield, Dublin 7

When: Wednesday, September 18th, 7pm - 9pm
Cost: Suggested donation €10 - €20 with all proceeds going directly to the Cathleen O'Neill fund*

*Cathleen O'Neill is a tireless community campaigner who pioneered adult and community education in the Kilbarrack area, and over the decades was a tremendous part of numerous justice campaigns. We in FJI worked closely with Cathleen on the 'Anglo Not Our Debt' campaign. Following a series of strokes and surgeries over the past 18 months, Cathleen is now wheelchair-bound and cannot move home without major adaptations being done to her home. We are supporting her in raising funds for this.