Before the next storm: exploring faith-based responses to debt justice and climate change challenges
25 March 2019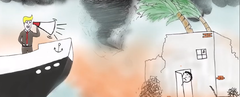 Financial Justice Ireland and the Columban Justice and Peace Office are hosting a panel discussion and information sharing event to explore challenges raised by climate change, how these overlap with the financial system and responses being taken by faith-based groups.
We are joined by Heron Belfron, Programme Co-ordinator of Jubilee Caribbean. Jubilee Caribbean are a newly established network set up by churches in the area who are calling for a moratorium on debt repayments when hurricanes hit these Caribbean islands as well as a debt restructuring process with creditors. 
Hurricanes in the Caribbean region are becoming more frequent and more severe as a consequence of climate change. Although these islands are among those who have done the least to cause climate change, they are among the first to feel its harsh impacts. As countries take out loans to rebuild after hurricanes hit, they are delving deeper in debt, which has negative impacts for social and development goals. 
At the same time congregations across Ireland are responding to climate change challenges and are mobilising and divesting from fossil fuels. Join us for this event to hear more about these issues and the role in which your congregation could play in supporting them. 
Panel speakers include:
Heron Belfron, Jubilee Caribbean
Sheila Curran, Association of Missionaries and Religious of Ireland (AMRI)
Michael O'Sullivan, Columban Justice and Peace Office
Kevin Hargaden, Jesuit Centre for Faith and Justice
Lunch will be provided.

When: Monday 25th March
Time: 11am-2pm 
Where: Carmelite Community Centre, 56 Aungier Street, Dublin 2​
Location Map