Film Screening: The Price We Pay
13 March 2019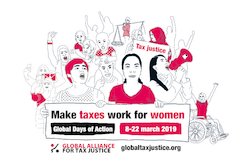 As part of the Global Days of Action on Tax and Gender, Financial Justice Ireland  in association with ActionAid, are hosting a film screening of The Price We Pay, exploring the role of multinationals in avoiding tax.
It's estimated that countries in the Global South lose more than $200 billion a year through tax avoidance - this is more than they receive in aid. As multinational corporations' tax practices come under inceasing scrutiny, we take a look at the impact that their actions have for women in the Global South. 
ActionAid's tax justice photo exhibition will be on display before the screening. The exhibition includes personal stories from Zambia, Ghana, Malawi, Nigeria, Kenya, Sierra Leone and Liberia, illustrating the impact of tax dodging on people and commuities in the Global South. 
We will be joined by Mary Murphy from Maynooth University for a post-fim discussion to draw out the gender links and impacts of tax avoidance.
Photo exhibition: 5.30pm
Film screening: 6pm 
Post film discussion: 7.30pm
Location Map