Propping up investors and privatising the Global South? How the Eurozone crisis dragged down Africa
4 December 2018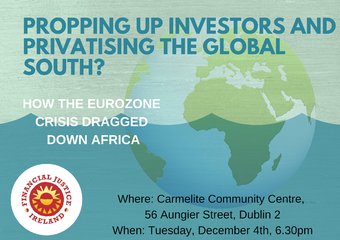 At the height of the Euro banking crisis, European Central Bank's decision to print more money (known as Quantitative Easing) was welcomed by many as a courageous step to encourage "capital flow" and "investment" in our economies. 

And yet, five years on, in Ireland, there is still a drought of financing for badly needed public good like housing. So just where did all that money go? Was QE just a ruse to bankroll private investments? Did it create more problems than it sought to solve? 

The answer is almost certainly yes - especially for poorer countries which had no role in creating the banking crisis in the first place. 

Financial Justice Ireland are joined by Rodrigo Fernandez of SOMO (the Centre for Research on Multinational Corporations, Netherlands) to address these questions. Rodrigo will present the findings of his newly-published research paper, "The politics of quantitative easing: A critical assessment of the harmful impact of European monetary policy on developing countries." 

Michael Taft will also join us to speak about the effect of European banking and money policies here at home since the bailout - including how they have failed to fund public necessities like housing, whilst also fuelling damaging speculative financialisation of more and more aspects of our lives. Michael is a researcher with SIPTU and played an active role in numerous anti austerity campaigns including against the bank bailout.
The talk will be chaired by Jean Somers. Jean worked for many years in London on social justice and equality issues, returning to Ireland in 1993 to coordinate the Debt and Development Coalition (now Financial Justice Ireland). On leaving DDCI in 2005, she carried out research on transnational debt campaigning for a PhD, focussing on what is the power of transnational civil society to challenge international public policy. She has also taught on Global Justice and Development on the UCD Msc in Equaliy Studies.
When: Tuesday 4th December, 6.30pm
Venue
Carmelite Community Centre 56 Aungier Street, Dublin 2
Location Map