Culture Night Walking Tour: Financial Crisis and Cultures of Resistance
21 September 2018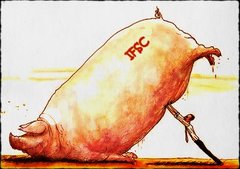 September 2018 marks the 10 year anniversary of the global financial crash, the bank bailout, recession and period of austerity that followed in Ireland.
For Culture Night we are hosting a walking tour to look back on the key events that led to the crash as well as the steps taken as the reality of the resulting crisis unfolded in Ireland. The walking tour will revisit some of the key events and locations of the night of the bank guarantee and the changes it brought it its wake. It is a journey not only through the crisis but the reaction of the Irish people and the often creative ways they organised against the outcomes. 
Tour guide: Dr. Conor McCabe, Researcher and Author of Sins of the Father: The Decisions That shaped the Irish Economy and Money.
The tour will take 75 mins approx., starting at Liberty Hall and visiting key sites in the city centre and IFSC along the way.
Start time: 6pm 
Starting point: Liberty Hall
Venue
Liberty Hall, Dublin
Location Map