Culture Night exhibition: 10 years on
21 September 2018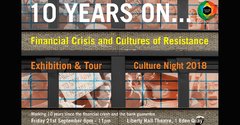 September 2018 marks the 10 year anniversary of the global financial crash, the bank guarantee and the beginning of the recession and period of austerity that followed in Ireland.
For Culture Night we are hosting a multimedia exhibition to mark a decade of struggle and resistance in Ireland, showcasing the defiance, spirit and creativity of Irish grassroots activism, through photography, video and live performance. 
The exhibition brings together groups from around the country to share their experience of the impact the crisis had on their communtities as well as the efforts they made to resist and overcome the austerity that ensued.
It takes place on Friday 21st September from 6-11pm in Liberty Hall.
The Resistance Choir will join us for a performance from 6.30-7pm.
This event is free to attend and no booking is required. 
Venue
Liberty Hall, Dublin
Location Map