Politics and Society: The role of education in creating social change
17 May 2018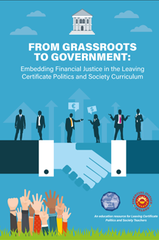 Debt and Development Coalition Ireland have developed a new teaching resource for Leaving Certificate Politics and Society. 
Join us on Thursday 17th May at 5pm for a wine reception to celebrate the resource launch. This will be followed by an interview with a student and teacher of Politics and Society about their experience of both teaching and learning the subject, and a panel discussion exploring the role of using education as a tool for social change.  
This event will be of interest to current and future teachers of Politics and Society, as well as those interested in development education, bringing active learning into the classroom and using education for social change. Copies of the resource will be available at the event. 
Speakers include:
Maureen O'Sullivan, TD
Senator Alice Mary Higgins
Fr. Sean McDonagh, Eco-Theologian and Key Thinker of Politics and Society course
Conor McCabe, Economist and Author
Cria Barry, Politics and Society student, Presentation Secondary School, Wexford
Donal McCarthy, Politics and Society teacher, Presentation Secondary School, Wexford
Date
5pm, Thursday 17th May
Venue
Carmelite Community Centre, 56 Aungier Street, Dublin 2
Location Map