Econowha?! - Introduction to Economic Justice Evening Course
4 April 2018 - 25 April 2018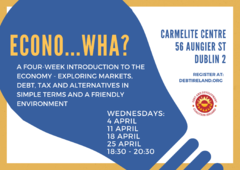 The economic system we live in does not serve the majority of the people and it is polluting the planet. Yet many of us feel that economics is too complicated to understand. We all participate in the economy in some way; we all have a right to have an opinion on economics. 
Econowha? is a 4 week evening course designed for people who have an interest in learning more about economics from a justice perspective. Through the course we hope to uncover different perspectives on the causes and consequences of the global financial crisis, and to think about economics in a way that puts justice for people and the planet first. 
The themes we'll explore connect the experiences of people living in Ireland and Europe with people all over the world, and put the voices of communities in struggle, and social movement participants to the fore. 
Topics include tax justice and debt justice where we'll demystify recent scandals surrounding the Panama and Paradise papers, explore the rising debt crisis in the Global South, and consider how alternatives could work. 
We believe in the importance of more people getting involved in conversations about how our economic system works as well as imagining how it could work better so the course is designed to create and support these conversations.
Course dates:
Wednesday 4th April: 6.30 - 8.30pm
Wednesday 11th April: 6.30 - 8.30pm
Wednesday 18th April: 6.30 - 8.30pm
Wednesday 25th April: 6.30 - 8.30pm
Venue
Carmelite Centre, 56 Aungier Street, Dublin 2
Location Map