Ireland: Development Ally or Tax Haven?
7 February 2018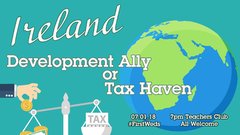 Comhlámh's First Wednesday Debate, hosted with Debt and Development Coalition Ireland (DDCI), looks at tax justice at a time when Ireland's tax practices are with regard to multinationals are coming under increasing scrutiny. Recent figures suggest that more than $200 billion a year is lost to developing countries through tax avoidance, more than is received in aid. As Ireland's development actors come together to achieve the SDGs, is it time to ask whether by facilitating multinationals to reduce their tax payments, we undermine our development efforts? 
Speakers include John Christensen from the Tax Justice Network UK, Mary Cosgrove (Lecturer, NUIG) and Maeve Bateman (Director, DDCI). Join us to discuss whether Ireland's international tax practices undermine our overseas development objectives.
When: Wednesday 7th February 2018, 7pm
Where: Teacher's Club, 36 Parnell Square West, Dublin 1
Speaker bios
Mary Cosgrove
Mary is a lecturer of tax and accountancy at the J.E. Cairnes School of Business and Economics, National University of Ireland, Galway and a doctoral candidate at the Irish Centre for Human Rights. She worked as a tax adviser for over 15 years, during which time she held tax managerial roles in a variety of organisations including a "Big 4" accountancy firm and a multinational enterprise. Mary holds an LL.M in International Human Rights Law from the Irish Centre for Human Rights in addition to Bachelor degrees in Law and Commerce and is a Fellow of the Institute of Chartered Accountants in Ireland. 
John Christensen
John is the Chairperson of the Tax Justice Network and was its founding Executive Director. Trained as a forensic auditor and economist, he has worked in many countries around the world, including a period of working in offshore financial services with Touche Ross & Co. For 11 years he was an economic adviser to the government of the British Channel Island of Jersey. His research on offshore finance has been widely published in books and academic journals, and John has taken part in many films, television documentaries and radio programmes.
Maeve Bateman
Maeve is the Director of Debt and Development Coalition Ireland. DDCI is a financial justice organisation which conducts research, campaign and education work on debt and tax justice and is a founding member of the Irish Tax Justice Network. Maeve recently authored the Irish chapter in the European-wide report 'Tax Games - the Race to the Bottom.' She has worked on issues of social justice, both local and global, for more than ten years, with a particular focus on achieving economic and social rights and ending inequality.
Venue
Teacher's Club, 36 Parnell Square West, Dublin, Ireland 1
Location Map