Stopping the Vulture Funds
1 February 2018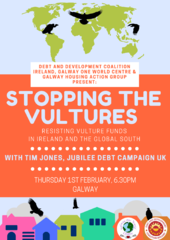 We've seen the damaging impact that vulture funds have had on the housing crisis in Ireland with tenants being evicted in the pursuit of increased profits through higher rents. But unfortunately it's not just housing and it's not just Ireland - vulture funds are financial speculators looking to profiteer from countries in debt crisis all over the world. 
Join us to hear from the Galway Housing Action Group and Tim Jones from Jubilee Debt Campaign to link together the local and global impact of vulture funds and find out how the global financial system perpetuates these predatory practices all over the world, and more importantly, learn what we can do both at home and overseas to end this vulture culture. 
Organised in partnership with Galway One World Centre and Galway Housing Action Group.
When: 6.30pm, Thursday 1st February 2018
Register for free tickets through Eventbrite.
Venue
Harbour Hotel, New Dock Road, Galway
Location Map