The New Global Debt Crisis: View from the Front Lines
31 January 2018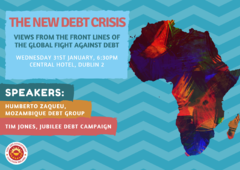 A new global debt crisis is on the horizon. Sparked by a crash in commodity prices, this crisis has already hit countries dependant on commodities, including Mozambique, and is seen as a warning sign of a bigger debt crisis looming.
The last debt crisis in the Global South, following the same cycle of commodity crash couple with a strong dollar, had a devastating impact on poverty in the region, so we need to ensure urgent action is now taken to prevent this from happening again.
Join us to hear from Tim Jones of Jubilee Debt Campaign and Humberto Zaqueu of Mozambique Debt Group​ (by Skype) to learn how this debt crisis is playing out, its impact on communities in Mozambique as well as the campaign for debt cancellation and to hold those who lent recklessly to account.
Event details:
6.30pm, Wednesday 31st January.
Resigster for free tickets at Eventbrite.
Venue
Central Hotel, Exchequer Street. Dublin 2
Location Map