'Can You Hear Us?' Panel Debate and Public Launch of The People's Purse Campaign, Wednesday 25th June
25 June 2014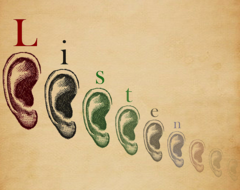 'Can You Hear Us?'
An event on the politics of communication with government
and launch of DDCI's new campaign

The People's Purse - A Campaign for Global Debt and Tax Justice
Panel Announced!
(Please note that the time of this event has been changed to 7pm from 6.30pm as previously announced.)
Ireland and the wider world have gone through severe social and financial crisis over the last number of years leaving many of us feeling exasperated by attempts to communicate with our elected officials.

We send emails to TDs and sign our names to petitions, and yet we are left feeling that our messages go nowhere, just fall on deaf ears.

We don't feel heard, we don't feel represented, and we don't feel like we're being given answers.

This compels us to wonder about how we use our voice...

How do we communicate? Does dialogue even work anyway?

This provocative event is an invitation to enter the debate. Our panel will discuss how we communicate with our elected officials, how we articulate our concerns to be heard, how we influence government, make an impact, demand accountability and put public pressure on them.

We will discuss what works and what doesn't work, when to send an email or pick up the phone and make a call, the power of the almost forgotten hand-written letter, and when dialogue simply isn't enough… We hope to see you there.

We are delighted to announce the panel:

Panel: 
Betty Purcell, (Former Editor of Features and Current Affairs, RTE), The importance of developing a process of democratic engagement within the media.

Oisín Coghlan, (Friends of the Earth Ireland), Does social media offer a solution when it to comes to influencing government?
Maureen O'Connell, (Presentation Sisters), Lessons learned from twenty years of correspondence with politicians on debt justice and human rights issues.
Joe Murray, (Afri), When dialogue doesn't work: the meaning of civil disobedience.

Moderator:
Éilis Ryan, Independent Councillor

Date: Wednesday 25th June 2014
Time: 7pm
(Please note the time has been changed from 6.30pm as previously announced.)
Venue: Connolly Books, Temple Bar
Register: To register for this event, please email sian@debtireland.org

This event is being held to mark the launch of DDCI's new campaign, 'The People's Purse – A Campaign for Global Debt and Tax Justice'. The evening will include an optional political letter writing activity as part of the launch.