Politics and Society
Our latest resource From Grassroots to Government: Embedding Financial Justice in the Leaving Certificate Politics and Society Curriculum supports teachers in exploring the Globalisation and Sustainable Development strands of the curriculum with their students. It takes a development education approach and uses active learning methodologies.
The resource encourages students to:
Examine the positive and negative aspects of globalisation
Analyse the global financial system and power of the supranational bodies
Bring about change through their citizenship project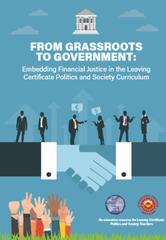 To order a free hard copy of the resource please email deirdre@debtireland.org or call 01 617 4835.
Our online learning platform supports the teaching resource and includes a range of videos, reports, case studies, newspaper articles, photographs and data.
If you'd like to stay in touch about new educational resources we produce, workshops we offer and opportunities to get further involved in resource development, join our Education mailing list. We only send a few emails a year and we fill them with new resources, activities and interesting links.

This project was funded by World Wise Global Schools, an initiative of Irish Aid. The views expressed in this resource are the sole responsibility of Debt and Development Coaltion Ireland, and can in no way be taken to reflect the official views of World Wise Global Schools or Irish Aid.