Vulture Funds in Ireland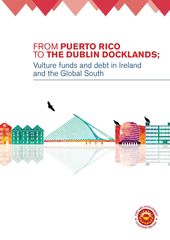 Click here to download our report "From Puerto Rico to the Dublin Docklands" by Dr Michael Byrne of UCDAlthough Ireland fell victim to vulture funds at the same time of crisis as many other Eurozone members, Ireland has proven to be particularly accommodating to this kind of insidious investment, and can be taken as the 'typical' example of the entry of vulture funds into the Global North.
Throughout Europe, the financial crisis was strongly associated with a crash in property, which in turn led to the accumulation of immense distressed debts. In fact, European banks currently hold about €879.1 billion in non-performing loans, over €541 billion of which relates to distressed real estate. Ireland, however, has been the main focus of vulture funds in Europe.
The Irish market for distressed debt was mainly driven by the two Irish Asset Management Companies (AMCs) or 'bad banks' - the National Asset Management Agency (NAMA) and the Irish Banking Resolution Corporation (IBRC) - in addition to the decision of several foreign banks (particularly Danske Bank, Lloyd's Bank and Ulster Bank/RBS) to sell off their distressed Irish debt. Because these banks are all trying to sell off their debts at once (known as deleveraging) it has created a feeding frenzy for foreign vulture funds. Incredibly, in spite of Ireland's small size, its two AMCs sold €36 billion of distressed real estate assets in 2013 and 2014, 37% of the total sold throughout Europe during the same period. 60% of all assets sold by the IBRC were bought by a single vulture fund, the Texas-based Lone Star Capital, whereas 90% of assets sold by NAMA went to US firms.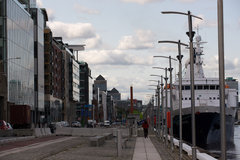 In 2014, NAMA created a Strategic Development Zone (SDZ) in the Dublin Docklands to make it more attractive to vulture fund investment
Ireland has been the centre of this feeding frenzy for a variety of reasons. In addition to the rapid sale of distressed debts, these funds were also drawn by the lack of Irish finance. Because Ireland found itself in extreme economic crisis, with an acute absence of domestic capital, Irish actors were simply unable to invest in local real estate. As vulture funds were the only firms with the necessary financial firepower, they were the only actors capable of taking advantage of the situation. Furthermore, as vulture funds are not subject to Central Bank regulations, Ireland has been a very attractive destination for their investment.
In fact, many vulture funds were actually invited to Ireland. NAMA's Annual Statement of 2013 sets out "attracting international capital" as a key strategy, while their CEO, Brendan McDonagh, has championed the fact that "NAMA's market activity and deleveraging have contributed to the strong inflows of foreign capital". The Irish government has also rolled out the red carpet. All in all, the Department of Finance met with vulture funds no less than 65 times in 2013 and 2014. In contrast, they met with groups advocating on behalf of mortgage holders just five times.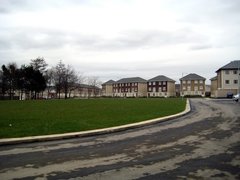 The residents of Tyrrelstown in West Dublin now face eviction after their homes were sold to a vulture fundThis influx of vulture funds has had a hugely negative effect on Irish society, and this is perhaps most visible in relation to the current housing crisis. The most immediate risk posed by vulture funds is that of reposession, such as that of Dublin's Tyrrelstown estate. As vulture funds are not regulated by the Central Bank, the exact number of mortgages owned by these funds is not known. However, there are approximately 100,000 mortgages in serious arrears in Ireland, and according to some estimates, we will see between 20,000 and 30,000 home repossessions in the coming years. Vulture funds also affect the housing market through the acquisition of development property, such as Dublin 18's Cherrywood complex. This is significant for several reasons. Firstly, it prevents the land being used for purposes that serve the interests of the community, such as parks, schools, hospitals, or social housing. Secondly, vulture funds tend to focus on the construction of commercial office buildings, and where they do build housing, as in the Dublin Docklands, it is typically luxury housing, and unaffordable to most local people. Finally, the purchase of land and the lack of available property have both driven up Irish rents and property costs. Vulture funds' aggressive actions in relation to property can also spillover into other areas, such as employment. The most prominent example of this is that of O'Conell Street's iconic Clerys department store, which was acquired and traded by a series of vulture funds before being sold as real estate, to the loss of 400 jobs.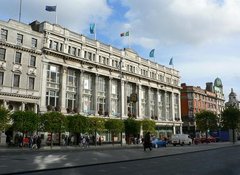 Clerys Department Store now stands vacant after serving the inner city for over 160 years
Vulture funds continue to be a major contributing factor to Ireland's housing crisis, and their effects can be felt through many sectors of the Irish economy. Many of the main firms involved in the Irish crisis (such as Lone Star Capital, Fir Tree Partners, and Marathon Asset Management) have invested heavily in distressed debt elsewhere in Europe, and in the Global South, including Argentina and Puerto Rico. In this sense the problem facing the Irish people is one that is shared by countless others around the globe, one that connects the Global South and the Global North.