Pfizer drapes the green flag to dodge billions in corporate taxes
Posted on December 10, 2015 at 01:21 PM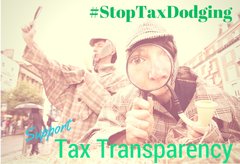 by Policy Officer Éamonn Casey
Another week, another mutlinational corporation's tax-dodging deal to keep Ireland in the international spotlight – with this one set to save Pfizer over $21 billion in taxes by routing profits through Ireland, according to Irish Times business reports.
Monday 23 November brought the news of the biggest ever corporate merger in the healthcare sector, which will see US-registered Pfizer take over Irish-registered Allergan in a $155 billion deal if the deal gets regulatory approval and completes in 2016. This will involve the newly established company, Pfizer Plc, shifting its legal domicile and 'headquarters' to Ireland (without shifting much of its management) in a so-called 'corporate tax inversion'.
This strategy will allow Pfizer take advantage of Ireland's low corporate tax environment, generous tax incentives around both R&D and intellectual property, lax transfer pricing rules, and secret tax arrangements with Revenue that the European Commission has highlighted in the case of Apple Inc. – all likely factors in a deal saving Pfizer billions in US taxes. 
The Pfizer-Allergan deal is just the latest example of a multinational corporation exploiting the global race to the bottom on corporate tax rates – and Ireland's particular advantages for corporate tax dodging – to avoid paying their fair share, despite often enormous profits.
Pfizer is joining a growing number of big US companies now officially based overseas for tax purposes, including Chiquita Brands (Ireland) and the 2014 takeover by Medtronic of Irish-domiciled Covidien, which have both used inversions to substantially cut their tax bills. 
The Guardian this week quoted US Treasury Secretary Jack Lew as saying: "US companies are currently taking advantage of an environment that allows them to move their tax residence overseas to avoid paying taxes in the US, without making significant changes in the nature of their overall operations." 
This is part of a global problem with huge impacts on the lives of people living in poverty. Poor countries are blighted by tax avoidance, with the International Monetary Fund (IMF) estimating that they lose $200bn per year to corporate tax avoidance.
Some analysts have suggested that Pfizer and Allergan have deliberately underplayed the anticipated financial benefits, earnings and tax savings involved with this latest deal because of increasing concerns about aggressive tax avoidance by multinationals, and particular political heat around corporate tax inversions to avoid US tax bills.   
Meanwhile, well-known Irish economist John Fitzgerald has warned of the dangers of relying on the recent tax splurge to Ireland from "exceptionally rapid growth in corporation tax revenue" among multinationals based here.
He called for planning of public finances to be based on a more 'normal' revenue profile rather than not relying on ephemeral revenue bonuses from "the exceptionally high level of profitability of multinationals in Ireland."
See also, 'Corporate Tax Secrecy and the state: the Apple case in Ireland', published by DDCI in October 2015: www.debtireland.org