Human Rights and the World Bank – tricky questions at the Annual Meetings
Posted on November 25, 2015 at 10:34 AM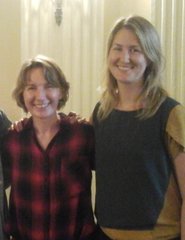 This blog was written by Aideen Elliott (right), who attended the Annual World Bank/IMF meetings in Lima, Prey, this year, with Vicky Donnelly (left), on behalf of DDCI.
Aideen Elliott is a former intern and long time supporter of DDCI. She received her MA in International development from SOAS University of London in 2013 and since then has worked on a number of campaigns and research projects, including writing DDCI'S IMF World Bank Watch 2015
. This blog is a continuation of Aideen's account of attending the annual WB/IMF meetings in Peru this year - you can read the first installment here.
Human Rights and the World Bank
Human Rights were present in some way in all of the sessions I attended, whether it was the social cost of tax avoidance or debts crushing a state's ability to meet their Human Rights obligations. The meetings about how the World Bank directly affects Human Rights were a chance to learn from other activists and also to see how the Bank staff members see these issues and what their logic is. For me the Bank's arguments raised the following questions:
The World Bank is made up of 188 country members, can such a diverse group reach agreement on Human Rights standards?
Should the Bank operate in volatile and potentially violent situations, with industries like mining which often cause social and environmental problems?
How much power does the World Bank really have when it comes to pressuring governments to respect Human Rights?
Here I'll outline how the events of the meetings brought up and in some cases started to answer these questions.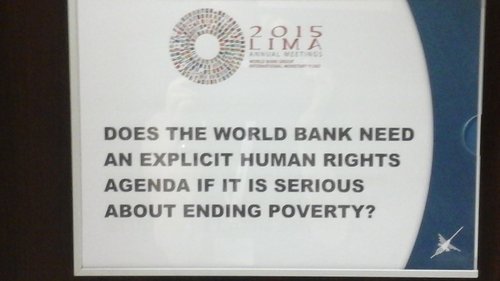 On Thursday morning at the CSO (civil society organisation) Policy Forum I attended Does the World Bank Need an Explicit Human Rights agenda if it is serious about Ending Poverty?, with panelists Catalina DevandasAguilar (Special Rapporteur on the rights of persons with disabilities) and Jörg Frieden (Swiss World Bank Executive Director) chaired by Jason Allford (Australian Alternate Executive Director of the World Bank). 
Catalina DevandasAguilar strongly argued that Human Rights discourse cannot be separated from development discourse. She spoke about what this means in a context where people with disabilities are the only segment of the population to have experienced no substantial changes in their poverty levels, both in poorer and in richer countries.
Jörg Frieden addressed the issue of how the diversity of the World Bank membership impacts upon the Bank when it comes to Human Rights, asserting that 'different countries practice Human Rights in different ways' and that we need to find a language that is acceptable to all members, going so far as to say that the biggest difficulty for the Bank is to have a Human Rights agenda that is not accepted by some members. He implied that NGOs making demands of the World Bank to respect and promote Human Rights need to take this diversity into account.
This issue of disagreement among the members of the Bank was to feature in all our sessions on Human Rights that day. I wondered who these 'different countries' he was referring to were. By the end of a day of meetings where I heard this idea repeated I wondered if the party line from the Bank directors was 'Europeans are on board for Human Rights, you guys need to talk to the Africans and Asians, they're the real problem so stop bugging us.'
Jörg claimed that NGOs tend to overestimate the power of the Bank when it comes to influencing a government, and that we thereby lay too much responsibility at the feet of the Bank. He went on to praise the work of CSOs as being key to the functioning of the Bank's Inspections Panel, as CSOs report on what is actually happening on the ground, not just what is written in documents.
When it was time to open the discussion to the floor I was surprised, pleasantly, at how lively and critical the contributions were.
A man called Ariel, from Peru set the tone by saying that he was extremely disappointed with what we had heard at the session, disappointed that the session on Human Rights was merely a side event, and disappointed that not all the panellists had shown up! Ariel concluded that we can take this as an explicit sign of where the World Bank is with Human Rights right now.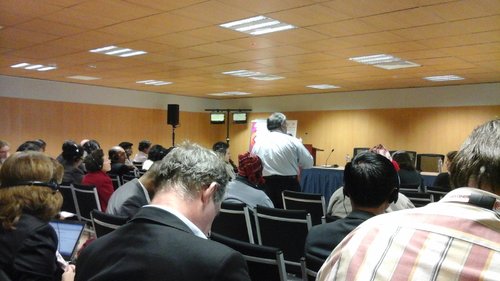 Ariel challenged Jörg's claim that the Bank can't influence governments, saying that as a resident of Latin America he had seen for himself the power that the Bank has as many of the policies implemented by Latin American governments had been pushed on them by the Bank. 
We heard next from a Sierra Leonean participant who pointed out that not only have the Bank not adopted a Human Rights Based Approach, but some of their projects in his country create grave Human Rights abuses. He asked "how after all these years does the Bank not see that it undermines livelihoods?" adding that "World Bank projects should be a flagship promoter of Human Rights everywhere, otherwise there's no need for the World Bank to exist."
On the issue of Human Rights abuses being committed through World Bank projects Jörg responded that while there have been reports of violence in Bank backed projects (see DDCI reports http://www.debtireland.org/download/pdf/ddci_world_bank_imf_watch_2013.pdf and http://www.debtireland.org/download/pdf/ddci_worldbank_imf_annual_report_2014.pdf) the Bank cannot anticipate such problems and should not refrain from entering into situations of potential violence because the Bank's presence there can be positive. Jörg said he believes the Bank's involvement brings an international perspective and gives visibility so that CSOs have 'opportunities to raise your voices' and that the Bank should enter into potentially violent situations so that it can resolve them, rather than stay outside in order to avoid criticism (presumably from NGOs).
Inspired by my fellow participants I decided to ask a question about the Bank's controversial new environmental and social safeguards, currently under consultation for a third draft (you can read more in DDCI's IMF World Bank Watch 2015 http://www.debtireland.org/download/pdf/wb_imfwatch2015.pdf ). The new safeguards weaken protections for affected communities and the environment because it relies too much on borrowers' national safeguards systems. This is particularly worrying where major dilutions of national social and environmental safeguards are taking place. In addition, this feature may encourage countries to weaken their own frameworks in order to speed up access to investment. Using national systems also leaves the role of the Inspection Panel open to question as they currently measure a project in terms of how it measures up to the Bank's own policies, not individual national ones.
My question to Jörg was "I agree that the Inspection Panel is key to Human Rights and so I'd like to ask how this can be effective in the future, as the second draft of the social and environmental framework transfers the accountability and oversight from the Bank to borrowers? In addition it lacks mandatory timing – the benchmark for borrower compliance is that it achieves objectives on environmental and social safeguards 'in a manner and time frame deemed acceptable to the Bank'. How can the Inspection Panel monitor against such vague standards?"
After a few tense moments Jörg answered that this is a concern and they are in consultation, that the borrower governments and the Bank need to work together, when both are involved we can identify problems and correct them. He concluded with "I want a dialectic and dynamic engagement and not a theoretical one about things that will never happen." Again, we heard this kind of rhetoric whenever we discussed Human Rights at meetings, the Bank urged us to be realistic and accept that we won't get everything we want in the safeguards. I guess because the question had raised some tension, Jörg came down to my seat at the end of the meeting to shake my hand and thank me for the intervention.
Our next meeting was the roundtable between European Executive Directors (ED) to the World Bank and CSO representatives. Kate from Oxfam addressed the issues raised by the IFC (the International Finance Corporation, the part of the World Bank Group whose role is to encourage private sector investment in the Global South) IFC's practice of channelling public funds through so-called 'financial intermediaries' (FIs). FIs are third party financial entities such as banks, equity funds, microfinance institutions, insurance companies and leasing companies. What Kate described was a catalogue of highly damaging projects, involving thousands of people losing their homes, many losing their health, their livelihoods, and even their lives. It was so shocking it was actually difficult to listen to, and therefore to take notes on but you can read more about the FI projects here http://policy-practice.oxfam.org.uk/blog/2015/04/risky-investment-and-human-rights-abuses . [1] She asked the World Bank directors and advisors present if they were satisfied that the IFC is doing enough to identify risk.
Yu Chen of Green Watershed raised the problems of the new environmental and social safeguards transferring responsibility to country systems in a way that relieves the Bank of accountability and makes it difficult for the Inspections Panel to measure violations.
Satu Santala, the Finnish Executive Director (ED) to the Bank argued that the new environmental and social safeguards wanted to transfer responsibility to country systems in order to have a lasting effect and positively influence the country.
At our last meeting of the day the CSO Roundtable with World Bank Group Executive Directors the Human Rights abuses connected to IFC projects grabbed our attention, and emotion.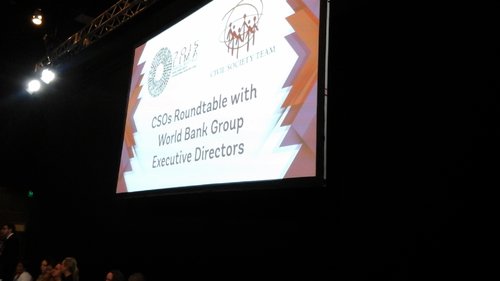 When the discussion was opened to the floor a man from Peru took the microphone and said "I am from Cajamarca. Under a World Bank IFC funded project there is mining in my area. This has caused lots of problems including water pollution. When I protested this I was shot in the spine by the police and now I am confined to this wheelchair for the rest of my life. The mines connected to the project are still operating in my country, and our water is still polluted."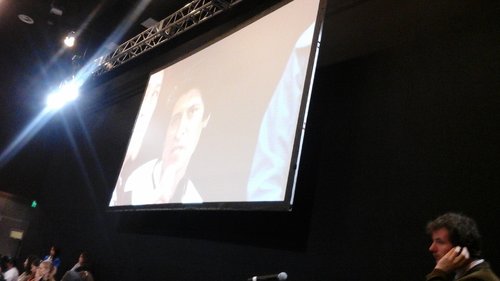 His testimony was followed by an indigenous woman from Peru who shared her own devastating story of being forced off her land by a corporation the IFC is funding.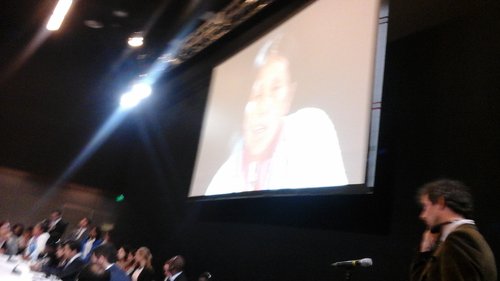 It was extraordinarily powerful to hear these people's stories, and in a context where they had come to Lima and to this meeting to seek justice, to demand that the World Bank stop these projects. Here they were face to face with the men and women with the power to really change things and they had laid their pain, and their dignified demands before them, and before all of us.
I didn't know what to expect from the WB directors' responses to these interventions, but I felt these people's words should stop everything in its tracks. They should make us all get up and ask what on earth are we doing here? How is it possible that these atrocities are being committed in the name of development and how can we make it stop?
What we saw in their response was a mixture of polished speech, shirking of responsibility and an ability to somehow neutralise the words that should have shaken everything to its core.
The American ED respectfully said that these issues had left him speechless. Then he went on to describe how sometimes the board are proud of what they do and sometimes things don't go as well as they had wanted. The Swiss ED reiterated his sentiments from earlier that day adding that the World Bank are dedicated to trying to solve problems. He admitted that sometimes they are problems that the World Bank generated and even if the Bank helped create the problems they try to solve them. He concluded that to solve these problems the Bank need our help, and our trust and that's what they try to promote with meetings like this one. It felt as though he was saying that our criticising the Bank was getting in the way of them solving problems (that they had created).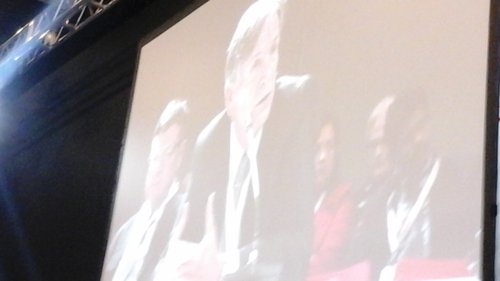 This emotional meeting was followed by a wine and cheese reception for the participants. We were stuck to our chairs trying to get our heads around what we had heard and as Vicky and I walked and talked our way home that night we probably discovered more questions than answers but here I come back to the questions I raised at the start of this piece.
The World Bank is made up of 188 country members and so there can be disagreement on the Board about fundamental issues.
Time and again this was the Bank's answer to why they didn't include better Human Rights standards in their new safeguards. The European EDs went so far as to say that they were in agreement with the NGOs, and we should lobby 'the other side of the board.' I felt uncomfortable with the idea of the apparently Human Rights respecting Europeans advising that the problems were the Africans and Asians. As Vicky said to me afterwards, how could they say this with a straight face particularly in the context of cruel treatment of migrants trying to escape to Europe? In addition their argument doesn't take on board the fact that while the World Bank's draft safeguards does not require full respect for worker's rights or include the ILO Core Labor Standards, but the African Development Bank does adhere to the ILO Core Labour Standards. If the diverse governments who make up the African Development Bank can come to this agreement then why can't the Board of the World Bank?
Should the Bank operate in volatile situations where there is potential for violence?
The Executive Directors of the Bank posed the question in quite stark terms, either the World Bank stay away from fragile states or conflict prone areas or they go in and try to help and not be afraid of getting their hands dirty. Unsurprisingly it's not as simple as all that. The Bank could do a great deal more to ensure their actions don't create Human Rights abuses. For instance they should formulate a process for independent input, participatory consultation with communities affected by IFC lending, and broader stakeholder engagement, do much more to identify potential risks and compensate those affected, and suspend financing to any project found to be violating standards.
How much power does the World Bank really have when it comes to pressuring governments to respect Human Rights?
According to Jörg, not as much as CSOs tend to think. I instantly dismissed this claim because examples of World Bank forcing governments to enter PPP contracts, to privatise public services, to implement particular economic policies came flooding to my mind.
The next day though a conversation with some Sierra Leonean colleagues made me rethink the issue. Emmanuel described how he sees the World Bank desperate to dispense millions of dollars to his government every year. From his point of view as a CSO worker and Human Rights advocate, the result is that the Sierra Leonean government need to make only the vaguest of promises to engage with CSOs for the Bank to be happy to dispense their first payment. He described how he can always tell when the mid project review is coming up because the government will finally grant them a meeting or invite them for a consultation. But the consultation will come to nothing and not be followed up until they need another show of their commitment to Human Rights for visiting World Bank inspectors when the next instalment of a payment is due. He believed that the Bank were well aware of the charade the government were pulling off but were wilfully turning a blind eye because it allowed them to get the money out.
Another issue to consider is that, despite Christine Lagarde's public claims to the contrary, it became apparent that the Bank see the newer development Banks (like BRICS, Brazil, Russia, India and China) as competition. These new players on the scene with cash to give out, maybe even have with lower standards when it comes to Human Rights. So which development bank will borrower governments choose to take money from – the Bank with a more or less stringent safeguards policy?
But if the World Bank can't get governments to implement legislation and policy on Human Rights then how come they can do this when it comes to sensitive economic policy, as is evident from Eurodad's recent report on PPPs http://eurodad.org/files/pdf/559e6c832c087.pdf
I left Lima with this question unanswered but felt that I did learn a lot from hearing the perspective of the Board members, and particularly from speaking with colleagues from countries in the Global South where the World Bank has a lot of operations.
---
[1] For more on IFCs and Human Rights you can read this Oxfam report 'THE SUFFERING OF OTHERS The human cost of the International Finance Corporation's lending through financial intermediaries' https://www.oxfam.org/sites/www.oxfam.org/files/file_attachments/ib-suffering-of-others-international-finance-corporation-020415-en.pdf