Global Week of Action for #TaxJustice (Nov 2-6, 2015)
Posted on November 05, 2015 at 12:50 PM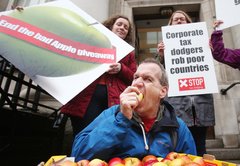 It's Global Week of Action for #TaxJustice (Nov 2-6, 2015). In this post we will tell you about just some of the great actions happening across Europe, and where you can find more information about #taxjustice.
In the year following the #Luxleaks scandal, a vast number of multinational companies have been proven to be exploiting tax loopholes in the EU. Vital revenues which should fund public goods are being plundered by the abusive practices and systematic tax avoidance of multinational companies and their specialist tax advisers. The world's poorest countries are often hit much harder than richer countries by corporate tax avoidance. Altogether, multinational tax avoidance costs poor countries around $100 billion per year, according to UN figures.
The Apple case in Ireland
Last week, DDCI published a policy report on Ireland's secret tax arrangements with Apple, which have allowed the company to pay an effective tax rate of around 2% in Ireland – costing the public purse billions in lost tax revenues.  DDCI have called for a Dáil debate after the European Commission's state aid investigation into those arrangements, and for the Public Accounts Committee to undertake a full review of the operation and social cost-benefit of the tax rulings system operated by Revenue. The report was released on 27th October, the same day Apple announced its Quarterly results.
You can download the report here.
End the great Apple giveaway!
To mark the launch of the Apple report, DDCI held a stunt outside the Department of Finance. Activists and campaigners drew attention to the corporate tax giveaway facilitated by Finance and Revenue, by staging the kind 'apple giveaway that is good for everyone' – handing out a free apple along with a report to all passersby.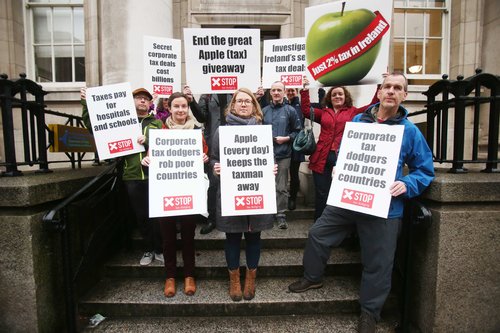 The financialisation of Apple
On the same day SOMO (The Centre for Research on Multinational Corporations, based in the Netherlands) and the GoodElectronics Network also published a report about Apple, 'Rich Corporations, Poor Societies: the financialisation of Apple' which exposes the ways in which Apple shrewdly minimises its corporate costs through the relentless offshoring of production and related 'activities' to low-wage countries and tax havens.
Apple is not the only multinational availing of these tax schemes, it is just one example of corporate financialisation. Both reports compliment each other and build a clear picture of the legal mechanisms which facilitate corporate tax avoidance. When companies and wealthy individuals don't pay their fair share of tax, it hurts us all.
SOMO and the GoodElectronics Network also released a colourful video, 'Cash Machine' to watch and share: https://vimeo.com/143721806
Fifty Shades of Tax Dodging
Our annual Stop Tax Dodging report was released on Tuesday 4th November by DDCI in Ireland. Fifty Shades of Tax Dodging finds that most EU countries continue to uphold secretive tax systems that are riddled with loopholes. This report – the third in a series of reports – scrutinises the role of the EU in the global tax crisis, analyses developments and suggests concrete solutions. It is written by civil society organisations (CSOs) in 14 countries across the EU, one of which is DDCI. Experts in each CSO have examined their national governments' commitments and actions in terms of combating tax dodging and ensuring transparency.
Each country is directly compared with its fellow EU Member States on four critical issues: the fairness of their tax treaties with developing countries; their willingness to put an end to anonymous shell companies and trusts; their support for increasing the transparency of economic activities and tax payments of multinational corporations; and their attitude towards letting the poorest countries have a seat at the table when global tax standards are negotiated. For the first time, this report not only rates the performance of EU Member States, but also turns the spotlight on the European Commission and Parliament too.
The Irish chapter of the report details how Ireland announced a gradual phase-out of rules that allowed the controversial 'Double Irish' tax avoidance scheme, but continues to allow corporate structures and operate systems for tax rulings, transfer pricing and intellectual property that allow multinational corporations to avoid taxes on an enormous scale. 
DDCI coordinator, Eilis Ryan says "Despite the LuxLeaks scandal and all the talk around EU and OECD initiatives to tackle corporate tax dodging, the 2015 Stop Tax Dodging report shows how inadequate the response has been so far. It's clear that it is business as usual for multinational corporations who want to dodge the rules to lower their tax bills – and that has serious negative effects on citizens in some of the world's poorest countries, as well as in the EU itself."   
Tax Justice Network-Africa
Also this week, Tax Justice Network-Africa has been busy with country-level launches of the Stop the Bleeding campaign against financial flows, and challenging the constitutionality of the Kenya/Mauritius Double Taxation Avoidance Agreement.
Solidarity with #Luxleaks whistle blowers
In a series of coordinated actions on November 4, 2015, activists in nine EU capitals blew their whistles outside national parliaments in solidarity with the #LuxLeaks whistle blowers. Stunts took place in the United Kingdom, Denmark, Belgium, the Netherlands, France, Spain, Slovenia, Poland and Finland.
Global Alliance for Tax Justice members and allies are calling on EU governments to ensure corporations are more transparent about where they do business and pay taxes. Whistle blowers wouldn't have to put their freedom on the line if governments required companies to make this information publicly available.
Below is an interview with Tove Maria Ryding, GATJ campaign chair and Eurodad's taxjustice coordinator, about this week.
You can join the debate and follow the actions using the following hashtags: 
#taxjustice 
#LuxLeaks 
#stoptaxdodging