The human cost of debt crises - activist reflections from WB/IMF Annual meetings 2015
Posted on October 29, 2015 at 01:55 PM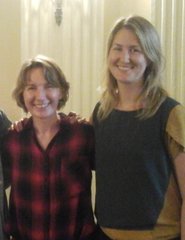 This blog was written by Aideen Elliott (right), who attended the Annual World Bank/IMF meetings in Lima, Prey, this year, with Vicky Donnelly (left), on behalf of DDCI. 
Aideen Elliott is a former intern and long time supporter of DDCI. She received her MA in International development from SOAS  University of London in 2013 and since then has worked on a number of campaigns and research projects, including writing DDCI'S IMF World Bank Watch 2015.
The human cost of debt crises - activist reflections from WB/IMF Annual meetings 2015 
On behalf of the Debt and Development Coalition, Vicky Donnelly and I­­ participated in the World Bank IMF Annual Meetings 2015. We attended events as part of the Civil Society Policy Forum, organised by the WB IMF Civil Society Teams "in the margins of the main event to promote  substantive dialogue and an exchange of views between Bank/Fund staff, civil society representatives, government officials, academics, and other stakeholders."[1] Our own recent debt crisis experiences in Ireland, the tragic cost to the people of Greece of a refusal to restructure the debt and a looming debt crisis in many countries of the Global South meant that the issue of debt was high on our agenda. This is a particularly important time for debt justice as on the 10 September the United Nations General Assembly adopted a landmark resolution on principles to guide sovereign debt restructuring processes. 
So it was with great interest that we looked for the official IMF response to the current problems, and the UN proposed solutions. What we found was… underwhelming, from Christine Lagarde's comment on the UN resolution - "been there, done that, it hasn't worked much" - to the fact that sovereign debt restructuring didn't feature in official meetings. If the main event didn't pay much attention to sovereign debt restructuring, the Civil Society forum and Alternative Platform hosted some fantastic meetings on the topic and I'll outline some important learning from them here.
…the existing procedures for dealing with sovereign indebtedness are inadequate"  
On the first day of the Civil Society Organisations (CSO) Policy Forum we attended Resolving Insolvencies: Proposals from Global Stakeholders on Restructuring Sovereign Debt where 'New Rules for Global Finance' (NRGF)  shared the results of a fascinating public consultation on sovereign debt restructuring.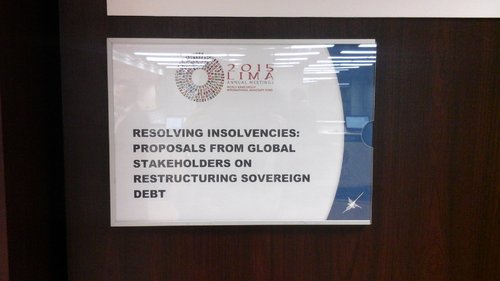 A practical roadmap to sustainable debt workout mechanisms
Their starting point was that "the debate on how to resolve sovereign debt crisis is not reserved for a few experts and the existing procedures for dealing with sovereign indebtedness are inadequate" Overall, 177 organisations from 49 countries participated. Nathan from NRGF shared with us some of the consensus and key takeaways from the consultation. We can roughly categorise proposed solutions to sovereign debt into 3 groups; market based (including changes to contracts, collective action clauses), statutory (for instance national laws in financial centres to avoid holdouts like those disrupting Argentina's restructuring) and an international debt workout mechanism.
Most participants preferred a multifaceted approach, (combining all 3)
Participants felt optimistic about UN initiatives and that there is hope, and reason to support UNCTAD's work.
Participants proposed the creation of a possible sovereign debt chamber at the International Court of Justice at the Hague, at a UN organisation, or independent body established within the IMF.
For me, the most exciting of these is the third proposal, a sovereign debt restructuring mechanism. Jürgen Kaiser from Jubilee Debt Germany gave us a wonderful presentation on how this could work in practice. Jürgen proposed Sovereign Debt Workout Principles:
Legitimacy (a coherent process to replace the current adhoc measures)
Impartiality (as opposed to single creditor decisions and IMF domination)
Transparency (no more closed secret meetings)
Good Faith (rather than creditor clubs coming together to delay debt relief)
Sustainability.
Sounds great! But these are just principles, how could this be turned into something practical? Jürgen answered that question perfectly with a 14 step 'road map.' Proposals for a debt workout mechanism include
Establish a debt workout institution that is impartial and will facilitate meetings with all creditors
Support impartial expert assessment of debt sustainability. A major problem has been the inaccurate IMF assessments.
Organise a binding arbitration process in the event that facilitation fails
Step 1 on the road map for indebted sovereigns: the Minister of Finance realistically assesses the sustainability of the debt. Step 2: the Minister of Finance contacts the debt workout institution and obtains endorsement for stopping payments for a limited period... and so on to a resolution in Step 14.
I found it particularly inspiring to see a blueprint of how debt justice could work. I felt that everyone at the Annual Meetings should be there to hear this, unfortunately very few were. This excellent meeting, like those on Human Rights, was poorly attended by IMF and World Bank staff. It was sad to see so many empty chairs with their unread leaflets and unused translation headsets on them.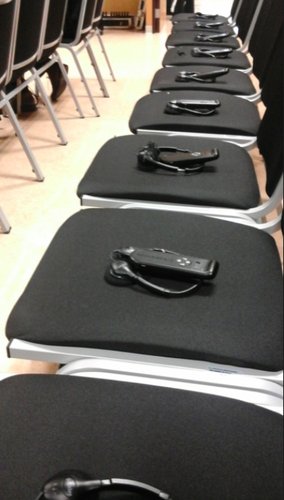 "Lessons: Urgent Need for Sovereign Debt Cancellation"
Local NGOs and activists in Lima organised an 'Alternative Platform' to the World Bank IMF Annual Meetings.
DDCI volunteer Vicky Donnelly spoke wonderfully at the session Debt Crisis in Europe and the role of the IMF: Lessons Learned. We learned more about the current state of play regarding sovereign debt restructuring from Martin Guzman who researches the issue at Columbia University. Coming from Argentina, Martin is all too aware of the dangers of vulture funds and began by reminding us that in fact debt restructuring is a win-win! It allows the debtor to produce more and that's better for everyone. But when the process of debt restructuring is prolonged (like in Greece) the decrease in production turns into a depression. Martin described 3 ways in which the IMF has played a key role:
IMF lending framework places conditions on a country that worsen the situation and make it harder for them to repay other creditors.
IMF forecasts are overly positive and so the IMF concludes that a country doesn't need debt restructuring as they will be able to pay the debt. The graph pictured here shows how wrong the IMF forecasts for Greece have been. The black line (going sharply downwards) depicts the reality and the tapered coloured lines show IMF World Economic Outlook forecasts for Greece in successive years.
The IMF refuses to support an international framework for solving debt problems.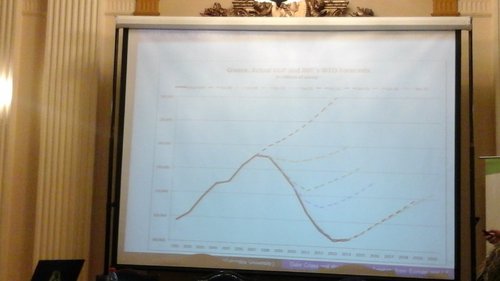 Despite this worrying report, Martin concluded on an optimistic note saying the good news is that there's a lot of room for improvement! The UN is reforming how debt is restructured and the help of the IMF is key to that. Why isn't the IMF helping? Because it is ruled by countries of the Global North (the USA has a veto). Martin suggested that it is important to work with the IMF in a constructive manner.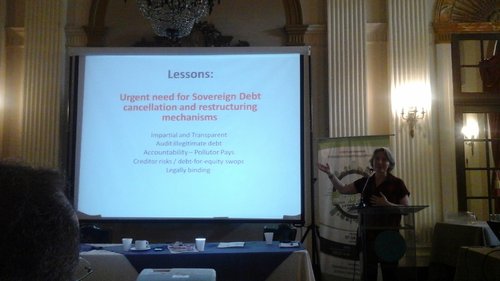 The theme of this session had been lessons for the IMF, and Vicky's final slide here says it all "Lessons: Urgent Need for Sovereign Debt Cancellation". And on that note we dashed off to join a protest against the IMF and World Bank, organised by local activists.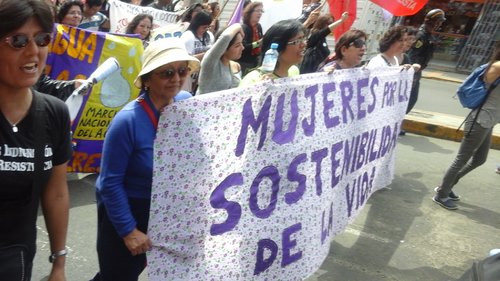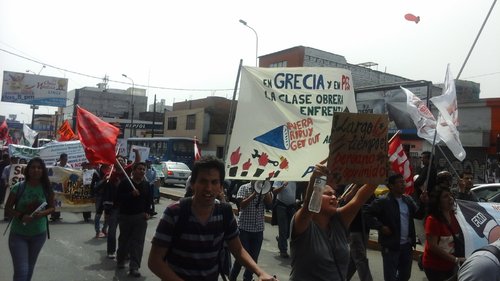 After a vibrant protest on the sunny (and sweaty) streets of Lima it was back to the air conditioned, suit populated official venue. This time for another engaging meeting Towards Debt Sustainability in Europe? The IMF's Role in the Eurozone Debt Crisis with Joseph Stiglitz featuring Vicky Donnelly, Eugenia Pires (on austerity and debt in Portugal); Leonidas Vatikiotis (Greek Debt Truth Commission); Bodo Ellmers (Eurodad) ; James Gordon (Deputy Director, European Department, IMF) and Joseph Stiglitz (Nobel prize winning economist working at Columbia University).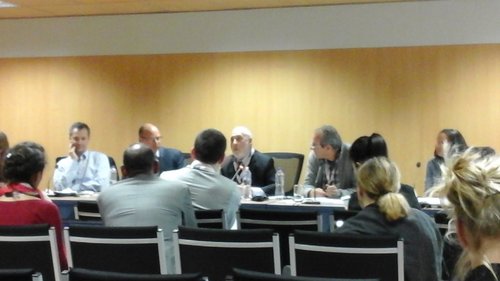 On sovereign debt restructuring, Stiglitz picked up many of the points from earlier sessions arguing that austerity today is not inevitable, that it has caused disaster everywhere it goes, from Latin America to Africa and "now Europe want to experiment with having a lost quarter century too." in order to avoid austerity there needs to be sovereign debt restructuring. Joining what had become a chorus of voices this week Stiglitz lamented the continued opposition by the USA and Europe to debt restructuring at the UN.
Stiglitz concluded with this call "I hope the civil society organisations from Europe and the US will continue to put pressure on their governments to support international debt restructuring."
We are and we will!
---
[1] http://web.worldbank.org/WBSITE/EXTERNAL/TOPICS/CSO/0,,contentMDK:23672987~pagePK:220503~piPK:220476~theSitePK:228717,00.html