Great Apple Giveaway mocks secret Irish tax deal with global giant
Posted on October 27, 2015 at 04:34 PM
by Policy and Outreach Officer Éamonn Casey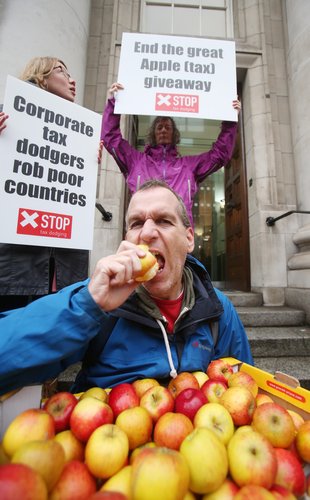 Irish tax justice activists marked the release of Apple Inc.'s fourth-quarter financial results on 27 October with a Stop Multinationals Tax Dodging event outside Ireland's Department of Finance.
Hardy campaigners defied miserable rain to protest at Ireland's great Apple tax giveaway, through secret tax arrangements with Irish subsidiaries. The activists highlighted Ireland's rotten Apple tax deal by handing out delicious, no-strings-attached, red apples to passers-by, who enjoyed the better taste they left in the mouth and showed keen interest in campaign leaflets on the issue.
The Dublin protest against multinationals' secret tax arrangements (beyond even the low 12.5% Irish corporate tax rate) highlighted the deals that lowered Apple's effective tax rate in Ireland to around 2%.
These tax rulings from Revenue, combined with a corporate model that allows subsidiaries incorporate in Ireland but be tax-liable nowhere, have allowed Apple to build up the biggest corporate cash mountain in history, held offshore and estimated at more than $178 billion.
The European Commission is due to rule within weeks as to whether Ireland's tax arrangements with Apple amount to illegal state aid, and might decide that a substantial sum (maybe billions of euros) should be repaid.
Bizarrely, the Irish government has said it will appeal any such ruling – presumably because of the tax arrangements that other global corporations have negotiated. 
Debt and Development Coalition Ireland, which organized campaigners' great apple giveaway on Tuesday, is calling for a parliamentarydebate on Apple's tax arrangements in Ireland after the European Commission decision – and before any legal appeal by the Irish government.
At a broader level, Irish taxpayers have no idea how many secret deals are in place with how many other multinationals, and at what cost to taxpayers in Ireland, EU states of the Global South. Low-income countries are also denied the chance to levy taxes where real economic activity has occurred and value has been created.
In Ireland, Revenue's tax rulings are negotiated in secret, kept confidential, and not amenable to proper parliamentary oversight, though they cost the taxpayer billions.
DDCI has urged the Public Accounts Committee to review Revenue's tax rulings for multinationals, identify any abuses and necessary reforms, and calculate the economic costs and benefits of Ireland's tax rulings system.
Our report, 'Corporate tax secrecy and the state: the Apple case in Ireland' is now online. You can download it here.