Significant CBRC breakthrough builds pressure against corporate tax dodging
Posted on July 20, 2015 at 03:27 PM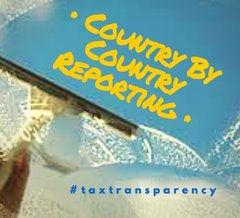 by Policy and Outreach Officer Éamonn Casey.
Welcome news
Campaigners will recall the 'Email MEPs for tax transparency!' action that DDCI ran in May and June of this year, whereby constituents emailed their MEPs and asked them to vote for increased tax transparency in Europe through mechanisms such as country-by-country reporting. 
It is welcome news, then, that the European Parliament vote on 8 July was in favour of country-by-country financial reporting (CBCR) for large companies. It was a notable success for transparency on multinationals' tax practices. Six of Ireland's eleven MEPs voted in favour, while four abstained (and one missed the vote because of illness).
The measure, adopted in updating a Shareholders Rights Directive, would be an important tool for increasing multinationals' accountability through monitoring by citizens, academics and others - if it becomes EU law. It could also help reduce aggressive tax dodging. 
As things stand, multinational corporations combine the financial data about their global operations into one single report, in which they can hide many of the details of the subsidiaries they have, the taxable income they record, and the tax they pay in the different countries in which they operate.
The LuxLeaks scandal of systematic corporate tax avoidance revealed that many multinationals create company, tax and accounting structures to exploit loopholes in domestic and international tax law, shift profits to low-tax countries, and massively reduce the amount of tax they pay (anywhere) on profits.
Keeping the pressure on
The CBCR provision adopted by the European Parliament will now be negotiated with the European Commission and Council, and hopefully become EU law.  The Parliament also voted that the tax rulings which states give to companies as to how their taxes will be treated should be made public.
While we can now celebrate the CBCR vote as an important step towards tackling corporate tax dodging, we are likely to need more public activism to make sure the initiative is not sidelined or watered down as a result of corporate lobbying and political bargaining.
The European Commission has said it will conduct an impact assessment of the case for large companies having to put their country-by-country reporting in the public domain, and has also launched a consultation to consider additional measures on corporate tax transparency, so there are still a few steps to navigate.
But if we can secure the legislation that the European Parliament vote suggests, multinationals will be required to disclose crucial information, such as their turnover, number of employees, profit made, taxes paid and public subsidies received for all the countries in which they have subsidiaries.
Let us hope that the European Council and Commission now take into account the strong message from Parliament (representating 500 million European citizens) in favour of corporations contributing their fair share of taxes to the public purse.
Vote
Irish MEPs in favour: Marian Markin (ALDE group), Lynn Boylan, Matt Carthy, Luke 'Ming' Flanagan, Liadh Ni Riada (GUE/NGL group), Nessa Childers (S&D group)
Irish MEP abstentions: Deirdre Clune, Brian Hayes, Sean Kelly, Mairead McGuinness (PPE group)
Irish MEPs absent: Brian Crowley (ECR group) - ill