It's Global Debt Week - Time to Take Action!
Posted on October 14, 2014 at 10:08 AM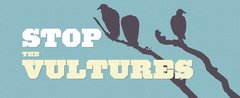 "Stop the Vulture Funds"
It's Debt Week!
Or, to use its longer title, this week is Global Week of Action Against Illegitimate Debt, which officially runs from October 8th until 15th, but in DDCI we are running events right up until Saturday October 18th. 
During this week every year, movements and organizations from the Global South and North join forces in solidarity to campaign and mobilize for debt justice. The initiative was created at the World Social Forum in Nairobi, in 2007. Debt week incorporates the anniversary of Burkinabé revolutionary and debt justice activist Thomas Sankara who was assassinated on October 15th 1987. The week also unites the struggle for freedom from debt domination and market fundamentalism with other struggles for justice including World Food Sovereignty Day, (October 16) and Day for the Eradication of Poverty (October 17).
One of the things we are doing this debt week is running an online action calling for an end to the activities of vulture funds. Vulture funds are debt purchasing predators that thrive off the suffering of people in debt all over the world. They are usually based in tax havens and scavenge to buy up the distressed debt of individuals on the cheap, or the debt of bankrupt countries after they have defaulted on their debt, in order to claim massive profits later on.
DDCI are currently running an online action (for people living in the Republic of Ireland), getting constituents to email their TDs, requesting them to ask Minister for Finance Michael Noonan to:
1) Advocate for the introduction of legislation in all EU member states to prevent vulture funds from claiming more than other lenders in the case of sovereign debt crises, and;
2) Review the Irish Central Bank Code of Conduct on Mortgage Arrears, ensure that it is legally binding, procedurally fair to borrowers, and that vulture funds currently unregulated in Ireland are covered by it. 
Click here to take this action NOW!
To read more about vulture funds you can take a look at the collective statement put out this week by some of the groups involved in Global Week of Action Against Illegitimate Debt. You can also take a look at DDCI's briefing on vulture funds, published last month. 
Borrowers Can be Choosers – Major Event in Galway this Saturday October 18th
This week we are welcoming Argentinean political economist Dr. Alan Cibils back to Ireland. Alan has visited us in Ireland before (you might have seen him at our Twentieth Anniversary event last year) and always brings a welcome perspective on Argentina's experiences of debt crisis, default, cycles of indebtedness and Argentina's situation with vulture funds.
Alan is joining us for our exciting public debt solutions event "Borrowers Can Be Choosers – Forging Debt Resistant Communities". This event is a day for dialogue, inspiration, ideas and energy for forging and strengthening creative campaigns within our communities against unjust debt in Ireland and all around the world. Joining Alan is Greek activist Christina Laskaridis, who is a founding member of the Greek Debt Audit Committee (ELE). Taking place the Saturday following the budget, this event is a think-in for community groups, campaigns, leaders and activists who are already campaigning on the debt, or who are interested in learning more about it.
We have a great line-up of speakers organized, including Professor Terry McDonough, NUIG, Dr. Su Ming Khoo, NUIG, Dr Conor McCabe, School of Social Justice, UCD, Cathleen Quealy, Ballyhea Says No, Cork, Diarmuid O' Flynn, Ballyhea Says No, Cork, Dette Mc Loughlin, Galway Community Sector, Catherine Friedrich, Anglo:Not Our Debt and ATTAC Ireland, and Tracy O'Brien from the Spectacle of Defiance and Hope. We'd love to see you there, so please get in touch if you'd like to join us!
If you are not based in Ireland, there is a wide range of activities taking place all over the world marking this important week of action. Take a look here to see if something is happening in your country.