Get up, Stand up for rights of the Caribbean
Posted on June 10, 2014 at 04:07 PM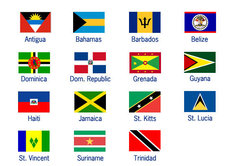 by Nessa Ni Chasaide
As the European debt crisis continues to hit the headlines there has been little public discussion about other regions in the world where people are also living in debt distress. Using the latest IMF statistics, DDCI's counterparts in Germany, Erlassjahr, recently published a useful overview of the state of debt in the world regions, beyond the Eurozone.  The debt crisis hotspots they highlight include:
Eastern and Central Europe (resulting from liberalisation of their economies in the 1990s) and Central Asia
Many countries in the global South that received the much publicised debt cancellation of the 1990s, which was subsequently topped up in 2005. In fact 11 of the 35 countries that received debt cancellation are in critical debt distress. This shows that debt cancellation is not a panacea for such financially vulnerable countries. It must go hand in hand with a broad range of economic justice measures, including tax justice and climate justice, not to mention fair and responsible international borrowing and lending rules.
Small island states, which are particularly vulnerable – and many were left out of the debt cancellation deals that benefitted other global South countries.
The small island states
Let's focus on the small island states. These refer to countries mainly in the Caribbean region and many have debt to national income levels close to the crisis levels in the highly indebted Eurozone states. One of the most highly indebted of these states is the small island of Grenada. Grenada is in debt default. The Minister for Economic Development in Grenada took a courageous step last October by writing an open letter to the Guardian newspaper, announcing that Grenada could not pay its debts and requires international support to achieve a solution to their debt crisis. The government now intends entering into negotiations with their private creditors with a view to getting a debt write down. Let's hope the Grenadian government negotiates successfully. And it needs international support to do so.
But other highly indebted Caribbean states are still struggling to continue their sovereign debt repayments. Take the example of Jamaica. Jubilee Debt Campaign UK indicates that Jamaica's debt payments make-up over 50% of the Jamaican government's budget. Since the 1970s, the Jamaican government has borrowed nearly US$19 billion from overseas. It has repaid over US$20 billion, but because of high interest, is said today to owe nearly US$15 billion. Shamefully, the EU is complicit in this problem. It has in the past shown support for harsh IMF austerity measures in Jamaica and has focused on looking after its own export interests at the expense of Jamaican industries.
The situation is so serious, Caribbean governments have now come together as a region to call for a comprehensive solution to their debt problems. They need the support of other powerful governments, especially EU member states who could collectively argue their case for debt cancellation at the global financial institutions like the World Bank and IMF. 
Ireland's role?
The Irish government and indeed the people of Ireland have contributed to important humanitarian responses at times when the Caribbean region is hit by natural / climate made disasters. But the Irish government is quiet on the issue of debt cancellation – for the Caribbean and more generally. Maureen O' Sullivan TD, chair of the Association of Parliamentarians for Africa (AWEPA), recently asked Minister for Finance Michael Noonan if Ireland would support debt cancellation for the Caribbean region. Minister Noonan essentially said no, that Ireland focuses its international development cooperation efforts largely in African countries.
It's fair enough that Ireland focuses its aid spending on some of the most impoverished countries in the world in Africa. It's a very sensible idea to focus Ireland's aid spending in an effective manner. But Ireland should not have limits on where it advocates for policy change at a macro economic level in global South countries. After all, it doesn't cost us anything. Ireland has long standing governmental links with the Caribbean region. For example, Ireland shares a voting constituency with 11 Caribbean states at the World Bank and IMF. This means that Irish officials work alongside Caribbean officials on a daily basis at the World Bank and IMF offices in Washington DC. Minister Noonan states that Ireland played a leading role in making debt cancellation a reality for 'least developed countries' in the 1990s and early 00's. This is true, although the outcomes of the debt cancellation deals left a lot to be desired. Now that we in Ireland need debt cancellation, Ireland should show greater, not less, solidarity toward people in countries that are also living through debt crises, and for far longer than we have. It's time to stand up for the rights of the people of the Caribbean.