Who We Are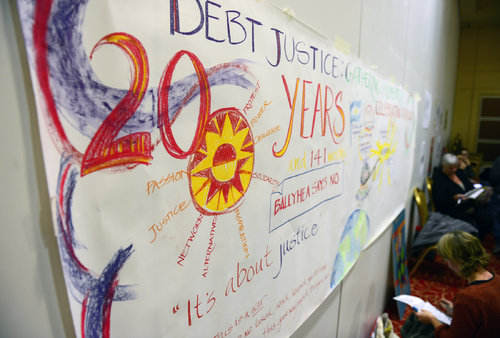 Debt and Development Coalition Ireland (DDCI) is a global financial justice organisation.
We want a fair and just society for everyone. 
We want a financial system that serves the needs of all people, rather than just some people, and which does not take the planet for granted.
We critically engage people to understand the structural causes of global inequality and power relations. We aim to empower people in Ireland to take informed action for greater economic justice globally. Tackling inequality and achieving a fairer society requires critiquing power structures in our society and globally - highlighting the causes of inequality, rather than the symptoms. 
Structure & Membership
DDCI is a memebrship-based organisation. Our members support the overall goals of the organisation.
Our membership is composed of organisations and individuals who share a deep concern about debt injustice and the injustice of the global financial system.
Membership of DDCI is either Organisational Membership or Individual Membership. Full Membership is open to non-profit making non-governmental organisations groups and associations. New organisational members can be nominated for membership by members at the AGM. Membership is also open to individuals who receive all our publications and notifications of our events.
At an operational level, DDCI has a small staff team, which is overseen by a Board of Directors.
History & Funding
DDCI was established in 1993 by a number of development, faith-based, and solidarity groups in Ireland who were concerned about the devastating effects of debt on Southern countries.
Over 50 organisations are now members of DDCI. The Coalition is funded through its member organisations, member individuals and donor organisations.
Governance
A copy of the DDCI Memoradum and Articles of Association is here
DDCI's organisational governance model can be found here